Fifa presidency: Champagne to battle Prince Ali & Sepp Blatter
Last updated on .From the section Football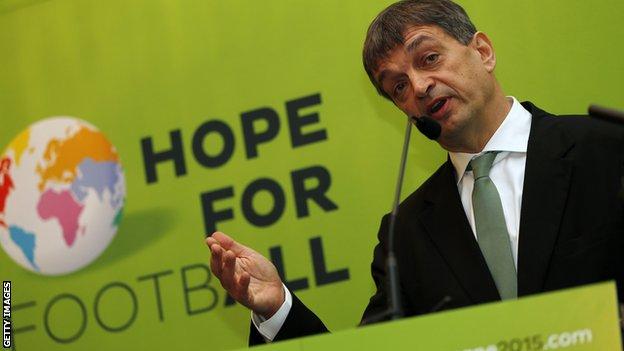 Jerome Champagne will still contest Fifa's presidency despite Prince Ali Bin Al Hussein announcing he will also run to depose Sepp Blatter.
Champagne, 56, announced his candidacy in January 2014 but the involvement of current vice-president Prince Ali, 39, will mean a three-way split in votes.
Asked if he will step down, he said: "Of course not, I'm the only candidate to present a detailed programme."
The former French diplomat called on Prince Ali to explain his plans.
"We need to know what is his programme beyond thundering slogans without any concrete explanations," added Champagne, who joined Fifa after the 1998 World Cup and left in 2010.
Candidates must announce their intention to run for the 29 May election by 29 January.
Upon outlining his desire to succeed Blatter, 78, almost a year ago, Champagne outlined detailed plans. They included proposed quotas on foreign players and changes to football's rule book.
Asked if he was fearful multiple candidates would split the vote to oust Blatter, Champagne told BBC Radio 5 live: "I've been a candidate for a year now, I've a concrete platform, I've exposed everything, it's a question for him [Prince Ali].
Fifa's long-serving men
Sepp Blatter is the third-longest serving president in Fifa's history having taken office in 1998. Jules Rimet, with 33 years from 1921, kept the role for longer than anyone else, with Brazilian Joao Havelange's 24-year stint next on the list.
"Why is he running? Who has pushed him? What is his ambition?
"Last year he lost the election in Asia, so if you don't have a base in your own region and own continent how can you be expected to be elected at the world level?"
Prince Ali is currently one of seven vice presidents who work under Blatter.
He is also vice-president of of the Asian Football Confederation and his decision to challenge a potential fifth term in office for Blatter was welcomed by key figures in the game on Tuesday.
Uefa president Michel Platini, Fifa vice-president Jim Boyce and former Football Association chairman David Bernstein all backed the challenge.
Bernstein raised concerns over a split in votes against Blatter but Champagne is optimistic of a change at the top of world football's governing body.
He added: "We need to continue what has been done directly but we need to change drastically what has to be changed.
"I'm the only one who is able to do these two things and have experience at the high level of Fifa as well."