Former referees' chief Hackett criticises 'appalling' standards
Last updated on .From the section Premier League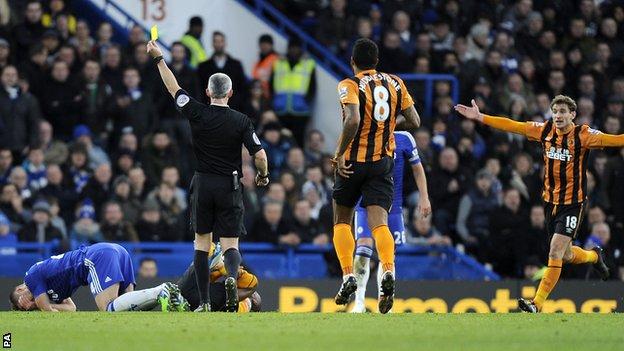 Former referees' boss Keith Hackett claims officiating standards in the Premier League over Christmas were "bordering on appalling".
Hackett, 70, has named five current top-flight referees who should be demoted at the end of the season.
In addition, he believes successor Mike Riley should step down.
Professional Game Match Officials Limited (PGMOL) has rejected Hackett's claims, stating standards have risen since Riley replaced Hackett in 2010.
Former Fifa referee Hackett claims he counted "over 20 major errors" during the Christmas period.
He cited Wayne Routledge's red card during Swansea's game at QPR on 1 January, which was later overturned, as being of particular concern.
"I see standards falling," he said. "Over the Christmas period, it reached standards that were bordering on appalling."
Hackett felt Routledge had been the victim of a "reckless challenge" by Karl Henry and expected the QPR player to have been sent off intead.
C'mon ref!! Managers' recent frustrations
"The officials clearly got it horribly wrong. Frustrated is an understatement. Baffled is more the feeling" -
West Ham United manager Sam Allardyce
on Alex Song's disallowed goal in
last month's defeat by Arsenal.
"I am losing a little bit of faith. I'm limited on what I can say and I'm tired of it. It's hard when we are constantly getting decisions like this. It sounds like me moaning but I don't want to be talking about it, I only care about the football" -
Swansea manager Garry Monk
on the Routledge red card.
"We were mainly talking about the referee. I hope there's no lip readers otherwise we're both in serious trouble" -
Hull's Steve Bruce
on his touchline chat with Jose Mourinho during the
2-0 loss to Chelsea.
Hackett also criticised Andre Marriner's "pretty poor performance" in the game between Manchester City and Everton at the start of December.
"First of all, the failure to spot a challenge that resulted in Sergio Aguero having to go off, then a non-penalty decision," said Hackett.
"I was with a group of Fifa referees from Nigeria who watched with amazement. Do you think I took joy in that?"
Marriner is one of the five referees Hackett believes should finish at the end of the season.
Writing in his blog, You Are The Ref, Hackett also targeted Mike Jones, Lee Mason, Chris Foy and last season's FA Cup final referee Lee Probert.
"You can't live on your reputation," Hackett said. "At the moment, these guys are performing well below the level."
Kevin Kilbane, Radio 5 live pundit
"Some of the decisions made in and around Christmas and over this last week or so have looked ridiculous. Some of the decisions are beyond belief at times. A lot of the decisions early on in the season have been quite good. But when you get some howling errors they seem to escalate."
Hackett, who refereed at the European Championship and the Olympic Games in 1988 and who led PGMOL for almost six years after replacing Philip Don in March 2004, feels Riley should take responsibility.
"I am criticising very strongly," said Hackett. "The performances of the referees are not acceptable. He must carry the responsibility."
Information supplied to the BBC by PGMOL states that the accuracy of decision-making by referees in the Premier League is currently at an all-time high.
The figures claim accuracy on major decisions was up to 95% from 94.1%, accuracy on decisions in the penalty box stood at 98%, and offsides were now 99% accurate, compared to 92% when Riley took over.
PGMOL adds that delegate marks for referees have gone up every season since Riley succeeded Hackett and the latest data shows referees are being asked to do 176 high-speed runs and 50 sprints in a game - a 64% increase on five seasons ago.