Ex-chairman Alastair Johnston frets over Rangers' future
Last updated on .From the section Football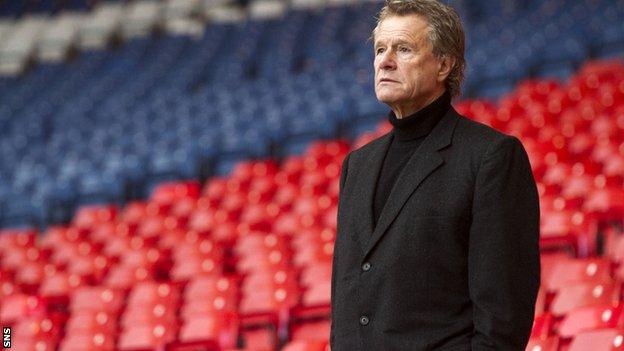 On Tuesday, former Rangers chairman Alastair Johnston spoke to BBC Scotland's Kenny Macintyre and Tom English about his concerns for the ailing club.
Johnston was sacked from his chairmanship in May 2011 by Craig Whyte, whose chaotic reign led to administration and subsequent liquidation of the company that formerly ran the club.
Here is what US-based Johnston told BBC Radio Scotland listeners:
On the state of Rangers
"There is no question about the fact, in my mind, that the value of the Rangers brand has really gone downhill, has skidded downhill significantly in the last three or four years.
"Everything that you know that today's generation knows about Rangers is about turmoil, not about being 'Scotland's most successful club' and the number of championships and European forays.
"The brand value of Rangers has certainly taken a big hit.

"Sports fans of today are not the same as the sports fans of 20-50 years ago. They have a lot of alternatives about how they spend their money, time, or expend their emotions or energy.
"I am concerned that there are a lot of Rangers fans who are not just 'boycotting' season tickets or not buying official merchandise or not having interest in watching it on TV; they actually may have gone away and a lot of them may not come back."
On Dave King
"When he was looking at being a potential buyer of the club during my 'era', if you will, and he was handicapped at that time by a very active South African court case, one of the things Dave didn't want to do was to be the guy on his own responsible for funding and underwriting all the ambitions of Rangers fans.
"If we lost four or five games in a row and we needed somebody in the January window, was he going to be the guy who would dip into his own pocket and pay £5m for a striker?
"He wanted to share the exposure while maintaining to a greater degree his autonomy as a decision maker.
"I think he would have a certain amount of trepidation about being the only guy who on the Monday morning demands were being made to put more money in, etc.

"That was a position that historically he was never going to be comfortable with.
"Whether he has changed his attitude now that the tax case has been settled or not, I don't know, but I suspect not. Dave plays his cards pretty close to his chest."
On Mike Ashley
"For Rangers fans not to be aware that essentially Mike Ashley owned the rights to naming the stadium, to me, that was really concerning. Even more concerning was the fact that we found out about it when he was giving it back to them.
"Mike Ashley is not Santa Claus, he is not the Salvation Army. When he acquires something or cedes something, there has got to be consideration, there has got to be value.
"I do have concern what Mike's role is here and what tentacles he has got crawling around Ibrox, with respect to what control he is exerting.
"When you basically thumb your nose at the SFA and say, 'Look, I'm putting in a chief executive officer and I'm putting in a CFO and I've got people on the board who are essentially representing my equity participation' - wink-and-a-nod-type situation - you are concerned about that.
"Mike Ashley will be watching this quietly and carefully, as he always does, without saying anything, but he will have his own agenda.

"It's still a little mystical that he continues to control the destiny of the major decisions at the club."
On Robert Sarver
"He is certainly a rich guy, he certainly knows how to run a franchise. As he pointed out himself, he is in a very highly regulated business, which is where he made his money - the banking industry.
"From the standpoint of, is this a credible guy, the fact that somebody of that calibre was interested in Rangers, that can only be positive, but on the other hand I'm not sure why he was interested.
"Of all the pretenders that have come along in the past few years, whether or not he has the understanding of the emotional interest in the club that some of the others have, he has certainly got the business acumen and the financial wherewithal."