John Hartson backs Wilfried Bony to succeed at Manchester City
Last updated on .From the section Football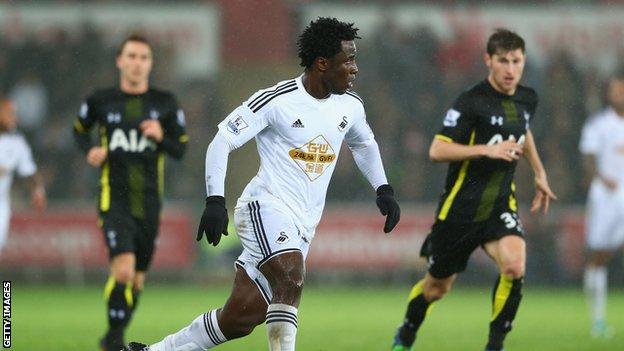 Former Wales striker and BBC Match of the Day pundit John Hartson has backed Wilfried Bony to succeed at Manchester City.
It is thought it would take more than £30m to secure the 26-year-old who joined the Welsh club for a club-record £12m from Vitesse Arnhem in 2013.
"Manchester City are getting themselves a very good player," said Hartson.
"He's got everything you need for a centre forward.
"He's strong, he's got a great leap and he's a goal-scorer. It's a terrific signing for Manchester City."
Bony was the Premier League's top scorer in the calendar year of 2014 with 20 goals.
The Ivorian has scored nine goals for Swansea this season, including one against City in the Welsh club's 2-1 defeat at the Etihad Stadium in November.
He is currently on Africa Cup of Nations duty with the Ivory Coast for at least the next three weeks, and any deal would likely be concluded after his return.
The fee being discussed would break Swansea's club record sale of £15m that Liverpool paid Swansea for midfielder Joe Allen in August 2012.

Hartson told Radio 5 Live the deal would also be "fantastic" for the Welsh side.
"They've had great value out of Bony. He's done nothing but score goals since he's been at the club.
"He's been great in terms of what he's given Swansea and ultimately they are a selling club," said Hartson.
"I think the supporters will understand that £30m is an awful lot of money for a player that they paid £12m for, so it's a great deal for Swansea.
"I wouldn't be surprised if you saw two or three players coming in to Swansea now in the January window.
"They need to be careful though because clubs knowing that Swansea have money, will put a couple of million pounds on players that Swansea want to buy."
Wales and Wolves full-back Sam Ricketts, who made 105 appearances for the Swans between 2004 and 2006, does not think Manchester City are paying over the odds for Swansea's top scorer.
"When you look at the Premier League and what it's worth for the clubs to stay in the Premier League, £30m for a striker who scores the goals he gets and the performances he puts in for Swansea I don't think it's a big figure," said Ricketts.
"For someone who can guarantee you goals I don't think it's expensive."