Blackpool: Owen and Karl Oyston begin legal action against fan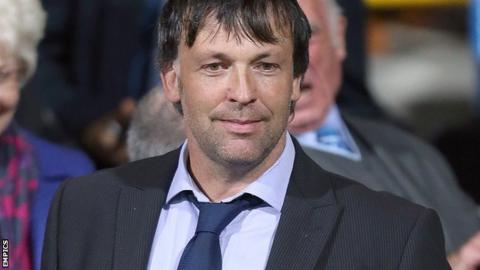 Blackpool owner Owen Oyston and chairman Karl Oyston have begun legal action against a fan who posted about them on an internet forum.
It is claimed the pair are attempting to sue the fan for £150,000 over a number of serious allegations, which they say to be untrue.
Karl Oyston is being investigated by the Football Association for sending abusive texts to a supporter.
Blackpool declined to comment when approached by the BBC.
It is reported that the pair are unhappy with a series of posts about them, as well as accusations about the club.
Club president and shareholder Valeri Belokon called for Karl Oyston to resign over the content of the text messages Oyston sent to a fan, for which he later apologised "unreservedly".
Karl, who is a member of the Football League's board of directors, has been the focus of protests about his running of the club, which began in pre-season when the club had just eight senior players under contract.
In April last year, some fans halted a game against Burnley by throwing tennis balls and tangerines onto the pitch as a form of demonstration against him.
The Seasiders are currently bottom of the Championship after 24 matches, nine points adrift of Brighton, who occupy 21st place immediately above the relegation zone.