Brentford 'could stay' at Griffin Park if promoted to top flight
Last updated on .From the section Football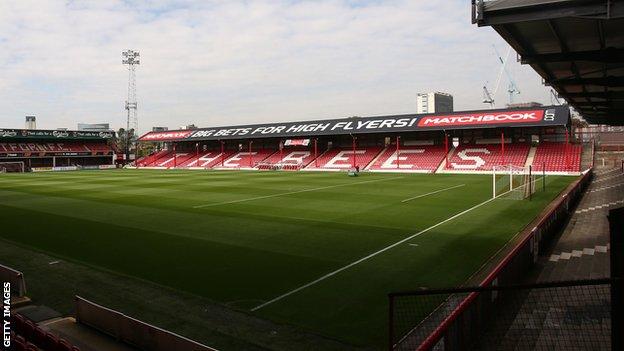 Brentford chief executive Mark Devlin is hopeful the club may be allowed to play matches at Griffin Park if they are promoted to the Premier League.
The 12,763-capacity stadium, the west London club's home since 1904, does not currently meet top-flight standards.
"We've met with the Premier League and they've been good enough to give us a steer," Devlin told BBC London 94.9.
"Clearly we are not going to meet all of the Premier League's criteria. We can certainly move towards them."
With Brentford currently sixth in the Championship table, having come up from League One last season, Devlin believes it is "not presumptuous" to consider the prospect of promotion to the top flight.
Every Championship club has to submit plans to the Premier League board before 31 January, detailing how they will meet a series of requirements if they go up.
They include the size of dressing rooms and media working areas, levels of floodlighting, and the provision of undersoil heating.
"We know they would like the ground to be an all-seater, for instance," Devlin said.
"It is not inconceivable that we could put seats on the terracing. It would reduce the capacity so we are also looking at coming up with creative ways of adding additional seats.
"The media facilities are still a tad spartan. Media is probably our biggest challenge, along with the changing facilities.
"All of this is a huge challenge for the operational team."

Brentford have planning permission to build a new 20,000-seater stadium at Lionel Road, but they are unlikely to move to that ground before the start of the 2017-18 season.
And the club announced in November that they may have to groundshare if they reach the top flight for the first time since 1946-47.
"We have looked at a number of stadia," Devlin continued.
"Some have ruled themselves out already and others have said they are happy to talk to us. Nothing concrete has been agreed with anyone.
"I made the inquiry of Wembley and it would be a big challenge for us as, even if suddenly we could attract crowds of 30,000, in a 90,000 stadium we would be handing over any advantage to our opposition."