Fernando Torres: Key for Atletico Madrid striker is Diego Simeone
By Andy West
Spanish football writer
Last updated on .From the section Football
Around 45,000 Atletico fans packed the Vicente Calderon for his presentation on Sunday, and the build-up to Wednesday's derby date with Real Madrid was dominated by the news Fernando Torres would start.
Could the 30-year-old possibly live up to the expectations with the Spanish champions?
What might the future have in store for the Torres-Atletico reunion and what part will old friend and manager Diego Simeone play?
For a striker who has only scored 21 goals in his 120 league games over the last four-and-a-half years, the return of Torres to his boyhood club has caused quite a stir.
Making history
El Nino could not have wished for a better occasion for his first game back: a home cup tie against local rivals Real.
And his dream week continued as Raul Garcia's penalty and a Jose Maria Gimenez header gave Atletico a 2-0 first leg advantage in the Copa del Rey tie - a victory which was, remarkably, Torres's first derby win over Real at the 10th time of asking.
In truth, however, the former Liverpool and Chelsea striker played only a minor role in his team's triumph.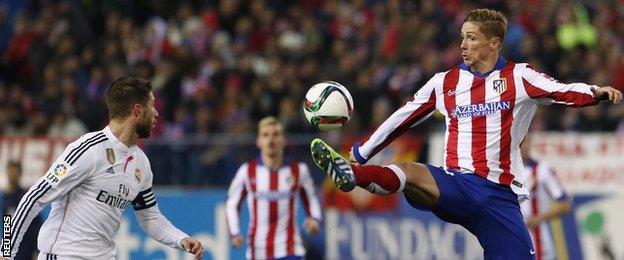 With the visitors completely dominating possession in the opening period, leading Atletico's line was a fruitless task and Torres's main contribution was to regularly find himself offside as he tried to run in behind the Real defence.
Although he worked hard and helped maintain the shape of the team, on the few occasions Torres did receive possession he was unable to get the better of Madrid centre-backs Sergio Ramos and Raphael Varane and generally looked less than match sharp - hardly surprising as the game was his first taste of competitive action in six weeks.
And when Atletico opened both the scoring and the pattern of the game through Garcia's penalty, manager Simeone responded by immediately substituting Torres and replacing him with midfielder Koke in a switch to a 4-5-1 formation, bringing his debut to a rather underwhelming end.
But in the end none of that mattered. Torres is back, finally victorious over Real and, once he regains fitness, ready to play a major role in his team's push for three trophies.
Coming home
Why is Torres so beloved by Atletico fans?
After all, they have been blessed by a series of wonderful strikers over recent years, with Sergio Aguero, Diego Forlan, Radamel Falcao, Diego Costa and now Mario Mandzukic all spearheading the team's attack.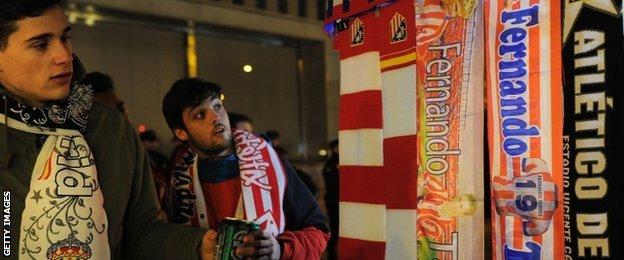 For all their success, however, none of them have come close to matching Torres in terms of the esteem in which they are held by supporters.
Quite simply, Torres was different from the rest because he was a hometown hero and a boyhood fan who grew up to captain the team he had always loved.
Ultimately, the love affair between Torres and Atletico fans is rooted in the club's identity. Whereas more glamorous neighbours Real have always been blessed by seemingly endless reserves of money, power and fame, Atletico have always been treated as an afterthought and forced to work hard for everything they have got.
In a city - and country - besotted with Real, delusions of grandeur are not befitting for Atletico fans. Supporting them is plumping for the plucky underdog who generally suffer valiant failure. Unlike Real, you do not support Atletico for glory: you support them because they are part of your identity and you are prepared to take heavy doses of rough with occasional outbreaks of smooth.
And in Torres, Atletico fans saw a player who epitomised those qualities during his first spell in red and white. As a boyhood Atleti fan, he grew up with a deep intuitive appreciation of the club's values and later demonstrated his affinity with the fans whenever he stepped on the pitch.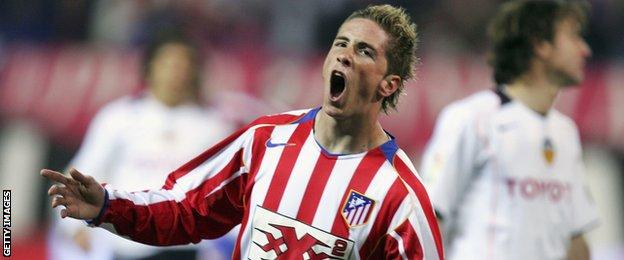 More than his goals, Atletico fans loved him because he was one of their own. They loved him because of his attitude. They loved the fact that he was a trier, wore his heart on his sleeve, gave every ounce of effort in every game and always came back for more, no matter how many chances he might have missed.
And even when he left, Torres retained the affection of Atletico fans because he headed far away to another country and a different football culture. Joining Liverpool was acceptable: moving to Barcelona or, shudder at the thought, Real Madrid would have been seen as betrayal.
So his popularity never dipped and, now he is back - on loan from AC Milan until the end of the 2015-16 season - Atletico fans will give him every opportunity to thrive once more.
From superstar to supersub
Atletico have already signed three other strikers this season, with Mario Mandzukic and Antoine Griezmann settling nicely into life at the Vicente Calderon following respective summer moves from Bayern Munich and Real Sociedad.
They are, without question, the first-choice strikers for Simeone, but fellow summer signing Raul Jimenez has struggled to adapt since joining from Mexican club America and that has left Atletico worryingly short of cover and competition.
With a hectic fixture schedule ahead - Atletico will play 17 games between now and mid-March if they progress to the Copa del Rey final - the Spanish champions were desperate to add greater depth to their squad.
Despite their recent successes, however, the club's finances are tight after many years of heavy debt, so the opportunity to seal a relatively low-cost, low-risk loan deal for an experienced international striker who was desperate to relaunch his career was understandably tempting.
Fernando Torres's career in goals

Atletico Madrid (2001-07)

214 league games, 84 goals

Liverpool (2007-11)

102 league games, 65 goals

Chelsea (2011-14)

110 league games, 20 goals

AC Milan (2014)

10 league games, 1 goal

Club total

436 league games, 170 goals

Spain (2003-present)

110 games, 38 goals
Torres's past with the club cannot be overlooked, however, and there is no doubt that his return to Atletico was in large part an emotional move for all parties concerned.
The striker has stated that one of his biggest motivations to return 'home' was the opportunity for his two children to see him perform for the club he supported as a boy.
He knows that he has been recruited as a squad player, but with Atletico fighting hard in three competitions there will still be plenty of chances to impress.
Indeed, Torres's declining physical powers mean he will be better suited to the role of an impact sub, conserving his energy by replacing Mandzukic or Griezmann for the final 20 minutes or making the occasional start against lower-ranked opposition. That role - supersub rather than superstar - could be the perfect formula for Torres to fruitfully prolong his career.
And just as importantly, Torres is excited by one big reason to believe he can recapture his former glories…
The Simeone factor
Arguably the biggest key to Torres's success at Atletico will be the influence of his new manager - and former team-mate - Diego Simeone.
The fiery Argentine, one of the few men who can rival Torres for popularity with the club's fans, played alongside the striker at Atletico for two seasons between 2003 and 2005.
Back then, Simeone was already a hugely respected veteran international, coming towards the end of an outstanding playing career, while Torres was a prodigious young gun who was just starting to make a name for himself but had already been elevated to the status of club captain.
Simeone took the teenage striker under his wing, educated him about the vagaries and hard knocks of their profession and encouraged him to adopt his own steely and intense approach to the game.
Enraptured by the attention paid to him by a man who had been his childhood idol when inspiring Atletico to a memorable league and cup double in 1995/96, a deeply impressed Torres took every word on board.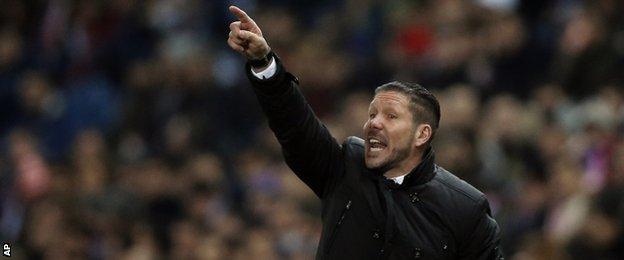 The two men have remained in contact ever since and Torres has never hidden his admiration for Simeone, regularly saying he would jump at the chance to work again with his former team-mate.
Now they are back together, Torres will hope to benefit from his much-admired manager's undoubted ability to drag the very best out of the players at his disposal.
Diego Costa, for example, was a talented but raw bulldozer who had never scored more than 10 league goals in a single season until Simeone got his hands on him.
And with previously journeyman performers such as Gabi, Juanfran, Raul Garcia and Diego Godin now revelling in their status as La Liga champions thanks to their association with Simeone, Torres will hope to be the latest beneficiary of the Atletico chief's impressive golden touch.
Simeone knows his new signing's strengths and weaknesses inside-out and fully appreciates Torres is not the same player who was on the road to becoming one of the world's greatest strikers when they played together a decade ago.
But Simeone believes Torres's career can contain a final swansong, as did David Villa's last year, and not many people will be bold enough to argue with him.
In fact, if there is any manager capable of getting Fernando Torres firing again, it is Simeone. The next few months could be very interesting indeed.