Vincent Lunny rejects notion of 'trial by Sportscene'
Last updated on .From the section Football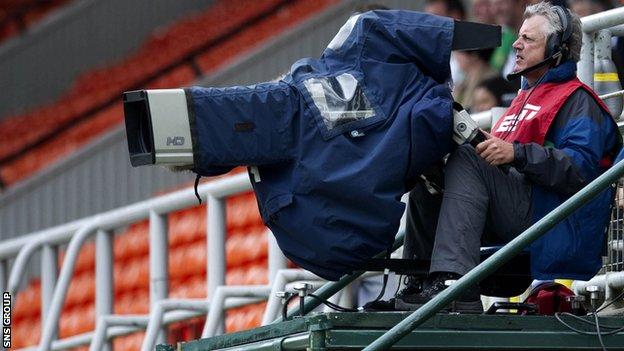 Former Scottish FA compliance officer Vincent Lunny sees no merit in complaints of "trial by Sportscene".
Wright was quoted saying: "It seems some things but not others are highlighted by the BBC."
But Lunny said: "Clubs use TV evidence to their advantage on more occasions than it is used against them."
The compliance officer has responsibility for determining which players or coaches should face disciplinary charges in the event of referees missing regulation breaches.
Lunny stood down from the SFA role in June, describing the post as "the fastest three years of my life", and was subsequently replaced by Tony McGlennan.
"Clubs can overturn red cards by using broadcasters footage, so it's only fair that action is taken when something is missed by the officials and caught on camera," Lunny told BBC Radio Scotland.
"In my three years, you would deal with about 300 reported cases a season and about two-thirds of them would require action.
"The retrospective matters using video evidence were only about 10 of those 300 cases, so it's very much in the minority.
"Whereas clubs may be appealing against 20 or maybe 25 red cards by using video."
The compliance officer has been busy since the position was established in 2011.
This week, St Johnstone accepted the charge against McFadden, while Hibernian have decided to contest a similar offensive gesture charge against Jason Cummings.
"The kind of behaviour we're talking about - any sending off offence not seen by the officials - if that's reported by any means then action can be taken," explained Lunny. "The rule is clear.
"If players do it in the knowledge they are being filmed, I have limited sympathy.
"I would have sympathy if there was anything filtered by broadcasters or anything hidden unfairly.
"But I can't think of any complaint where somebody has said television showed incident A but not incident B."