Wayne Bradley wants Alfreton Town US revolution
Last updated on .From the section Football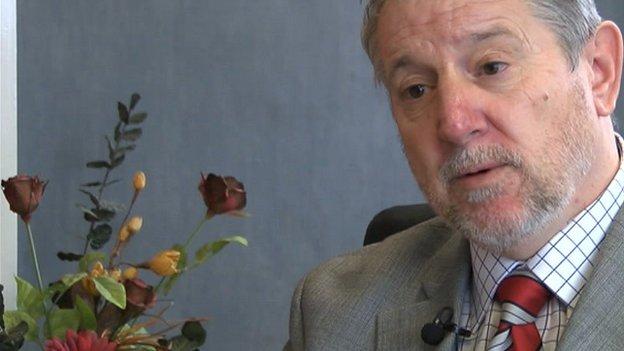 Alfreton Town chairman Wayne Bradley says securing US investment of up to £250,000 will not result in a silly spending spree but says it will bring about a steady "revolution".
The deal sees a link with lower-league American side Fort Worth Vaqueros.
Bradley told BBC East Midlands Today: "You won't see a blank chequebook.
"But I hope it will bring a focus from supporters who want to come and see what a revolution looks like - although it will start from small ashes."
The Conference Premier side have one of the smallest budgets and one of the smallest supporter-bases in the league and are struggling in the relegation zone.
Manager Nicky Law said just surviving at the highest level in non-league football has been tough.
"Wayne has always been looking for someone to come in and help out on the financial side," Law said. "We are not blessed with big crowds.
"The investors are very positive and and are confident they can bring a lot of new ideas to the club.
Bums on seats
Alfreton's average attendance of just over 600 from their 13 league games this season and is the lowest in the Conference Premier. Bristol Rovers, who are second in the division, regularly attract nearly 6,000 fans.
"I am under the impression there will no instant investment and a war chest to get five or six players, but we will look to bring in younger players.
"The investors are full of enthusiasm and good ideas.
"They are business men and will not just do it for a bit of fun. They seriously believe they can bring something and take the club forward and we all hope the same.
"They like the atmosphere and what the club was about. They know what they are getting in to and have taken time to study the club. They have done their homework."
Only a poor end-of-season-run saw the Reds miss out on the play-offs last season after an impressive campaign which still saw them finish in 11th - their highest placing in the football pyramid - but they lie 21st in the table this term.
"We have had a poor first half of the season," Law said. "But we have to come good in the second half of the season.
"On our day we can beat anybody. We just need to this some consistency."