Cardiff City board will discuss return to blue after fans' meeting
Last updated on .From the section Cardiff
Cardiff City will hold a board meeting on Friday where the club will discuss a possible return to blue.
Club officials consulted a cross-section of fans at a meeting called at Cardiff City Stadium on Thursday by owner Vincent Tan.
Tan has been at the heart of Cardiff's controversial rebrand from blue to red in 2012.
"I think Vincent will give this a great deal of consideration," said Cardiff chairman Mehmet Dalman.
Tim Hartley, chairman of the Cardiff City Supporters' Trust, said fans had given a clear message to the club who he felt were listening, but added: "I won't believe anything until I see that team running out in blue."
Malaysian businessman Tan was not at the meeting, but Dalman said he would be reporting the views of the gathering to him, and the board. Tan will join Friday's meeting by video link.
"He will listen and he will consider. Vincent Tan saved the club when it needed saving. He will never leave this club in the lurch," Dalman added.
"It was very clear that this audience wants to unite with Vincent Tan. It's very clear.
"And if that means that we have to reconsider the colour and the badge then you know we must.
"Only a strong character like Vincent can call for a forum like this, and I think he will be very touched by what took place tonight."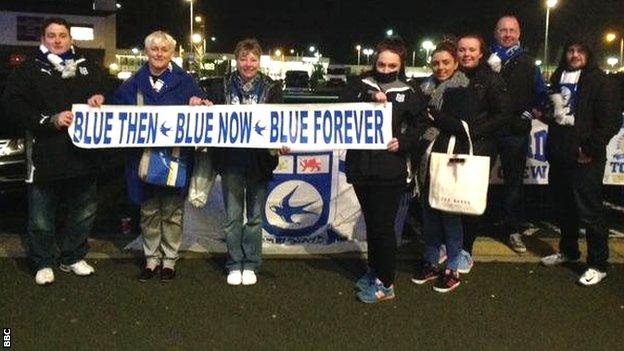 Attendances have fallen since Premier League relegation, but supporters at the meeting claimed fans would return if the kit reverted to blue.
The meeting was hosted by Dalman and chief executive Ken Choo, who met an invited audience of fans and politicians.
Supporters' Trust chairman Tim Hartley said afterwards: "There was unanimity in the room for a return to blue, and the clubs' directors and the chairman Mehmet Dalman heard that."
"We dearly hope that at their board meeting they listen to us and they go to Vincent Tan and recommend to him that for the benefit of the club and as a business we return to blue as soon as possible."
Hartley welcomed the chance given to the fans to express their opinion.
"The feeling we got was they were in listening mode, not only that that they agreed with us in our analysis," he added.
BBC Wales football correspondent Rob Phillips:
At the board meeting Vincent Tan will be told of the overwhelming desire of fans to re-unite the club and its supporters by returning to playing in blue. The attitude of fans towards the Malaysian owner was warm and respectful. The club may be on the brink of a return to blue - but it's up to Tan.
"People are not buying red merchandise, people are not buying red shirts. People are not turning up for games because they don't like the fact that we're not playing in blue.
"So with a bit of luck and a bit of common sense, we can put the past behind us and move forwards together as the Bluebirds for the sake of Cardiff City Football Club."
However, he acknowledged the final decision will rest with Tan.
"I won't believe anything until I see that team running out in blue.
"If we can get a commitment by Saturday then I can tell you this game against Fulham will be packed to the rafters with people chanting the name of Vincent Tan.
"I do hope that's the case. If it takes a bit longer than that then so be it, but at least I think we've made our feelings known."