Fifa candidate Jerome Champagne doubts hopes of replacing Blatter
Last updated on .From the section Football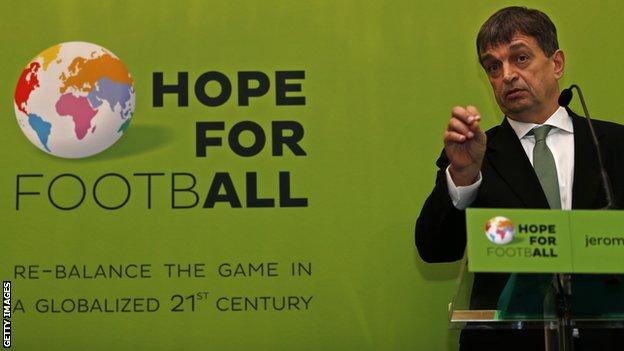 One of the two men aiming to challenge Sepp Blatter as president of football's world governing body Fifa is not confident of securing enough support.
Jerome Champagne and Prince Ali Bin Al Hussein hope to rival Blatter, 78, who is seeking a fifth term in office.
A candidate needs to secure five nominations from Fifa's 209 members to take part in the election on 29 May.
"I would say that it's easier to get 50 votes than five letters of support," said 56-year-old Frenchman Champagne.
"There's a lot of fear, sometimes pressure. I'm discussing with a lot of federations to get these letters. If I have five letters by 29 January I will compete and if I don't, I will say 'I don't have them'.
"A person who is not prepared to lose an election is someone who should never run for election. I'm not the kind of arrogant guy who said 'I'm bound to win'."
Champagne announced his candidacy in January 2014 and his plans include proposed quotas on foreign players and changes to football's rules.
Prince Ali, president of Jordanian football since 1999, revealed his intention to stand on Monday, although Blatter, who has been Fifa president since 1998, is the favourite to retain his position in May.