Ched Evans: Football Association may change rules after controversy
Last updated on .From the section Football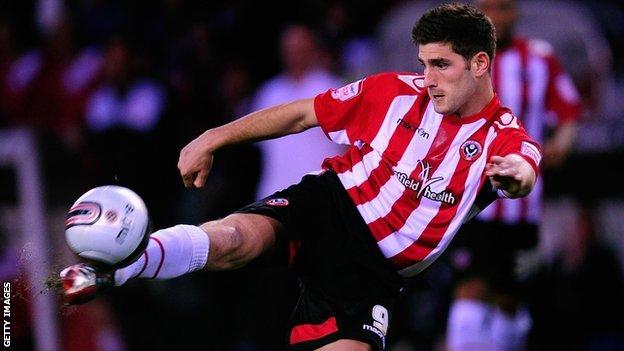 The Football Association may change its rules after admitting it is powerless to intervene in the future of convicted rapist Ched Evans.
Evans, 26, was released from prison in October after serving half of a five-year sentence for a rape conviction.
Sheffield United retracted an offer to let striker Evans train with them, before a deal to join Oldham collapsed.
FA chairman Greg Dyke told BBC Sport that "future guidelines or codes of conduct" could be introduced.
League One side Oldham said there was an "80% chance" of signing Evans, before pulling out of the deal when death threats were made to club employees and sponsors threatened to withdraw their support.
Evans had also hoped to rejoin former club Sheffield United, but they ended their interest following criticism from fans and sponsors.
Labour leader Ed Miliband said earlier in the week he would not sign Evans if he was in Oldham's "shoes".
Meanwhile, Labour's Shadow Minister for Sport, Clive Efford, called for the FA to intervene and not accept Evans's registration as a player.
"There are many professions that people cannot return to after committing this sort of crime and football must be one of them," he said.
However, Dyke said the FA could not act.
The FA statement in full said: "Rape and sexual violence are abhorrent and unacceptable. This cannot be overstated.
"We have reviewed the Ched Evans case in some detail and we have examined both the legal requirements and our rules and regulations and there is no basis for us to intervene directly in this particular case.
"That said it is important that we continue to look at the issue of behaviour and attitudes within football and recognise the unique privileges and responsibilities that come with being a participating member of the national game.
"I would encourage the game to consider and discuss this matter and the prospect for future guidelines or codes of conduct.
"The FA will certainly be considering it in line with our own ongoing review of what constitutes public or private communications and behaviour."