Fifa rejects Sierra Leone interim body
Last updated on .From the section Football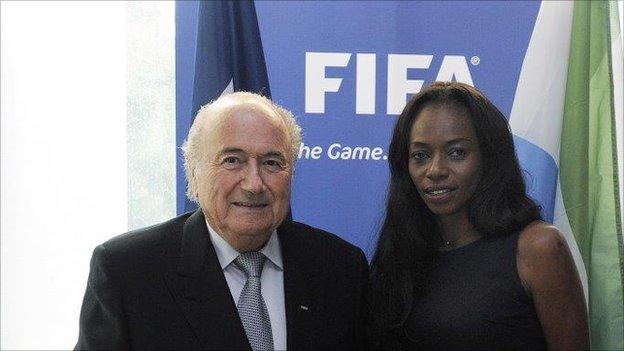 Plans to remove Isha Johansen as president of the Sierra Leone FA are in disarray after Fifa rejected an interim body installed last month.
The nine-member committee, headed by Unisa Alim Sesay, was set up by some members of the SLFA including representatives of some Premier League clubs unhappy with Johansen's administration.
It was tasked with running the affairs of the SLFA until new elections are held this June.
But Johansen stood her ground, insisting that the teleconference that resolved to get rid of her executive committee was illegal and unconstitutional.
Undeterred, Sesay wrote to Fifa seeking the support of football's world governing body "to ensure that all teething problems are resolved and that an elective congress is held within six months."
Sesay's letter dated 6th January 2015, also warned Fifa that the interim committee was determined "to work to meet its goals even if such support is not forthcoming."
But the authorities in Zurich have refused to recognise his interim committee and have thrown their full weight behind Johansen, who came into office in August 2013.
"We kindly invite you to take note of the fact that the interim committee you mentioned in your letter is not recognised by Fifa," said Fifa general secretary Jerome Valcke, in a letter addressed to Sesay.
Valcke added: "Kindly note that as a general principle, FIFA only corresponds/communicates with and through its Member Associations and that in the future FIFA will only correspond/communicate through the SLFA's official representatives which are its President, Isha Johansen, and its General Secretary, Christopher Kamara."
Valcke's letter, dated 8 January 2015, was copied to the Confederation of African Football.
A defiant Sesay told BBC Sport that Fifa's position will not change anything.
"We the members own the SLFA and our decisions still stand. There is an interim body in place."
Johansen told BBC Sport that stakeholders had been given notice last August that an ordinary congress would be held on 29-30 January 2015.
"Ridding the nation of Ebola is the priority right now and not football," said Johansen, the SLFA's first female leader.
"If the government gives us the clearance to go ahead and hold our gathering, the SLFA will be more than happy to do so.
"Fifa's reaction and response to Unisa Alim Sesay and his followers is a stance based on legality, rules and regulations."
She also rounded on certain groups for choosing "to apply the rules governing our football to suit their agenda."
Officials who convened the meeting that set up the interim body are currently being investigated by police for allegedly holding an unlawful gathering during a state of health and safety alert.