Peter Crouch: The Premier League millionaire everybody likes?

By Tom Fordyce
Chief sports writer
Last updated on .From the section Football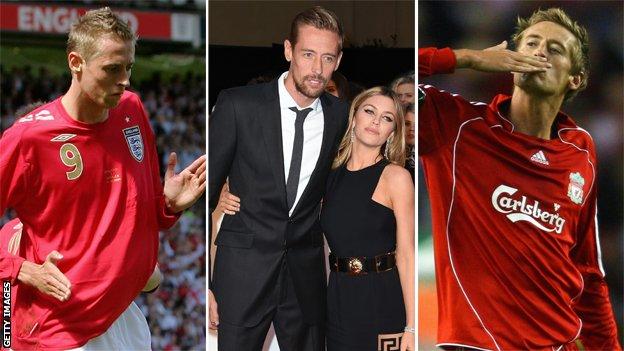 Imagine a player with more Premier League assists than Cristiano Ronaldo or Paul Scholes, with more Premier League goals than Fernando Torres or Dennis Bergkamp.
Imagine if he had more goals for England than Kevin Keegan, Steven Gerrard or David Beckham, with a goals-per-minute ratio significantly superior to Michael Owen and Gary Lineker and twice as good as Alan Shearer.
That you wouldn't imagine that man to be Peter Crouch might be a sore point for some players. Not for Crouch. There are prima donnas in the Premier League. Then there is the striker who celebrates scoring a first-minute goal against Arsenal by going to a Kasabian gig and crowd-surfing into the arms of a startled bouncer.
"I got a bit more involved than I planned to," he admits with a grin, preparing to face Arsenal once again this Sunday.
"I'd been watching from the side quite reserved, but I ended up getting a bit carried away. A couple of fellas have lifted me up onto their shoulders, and then it's a case of enjoy it or try to get down. And I decided to enjoy it."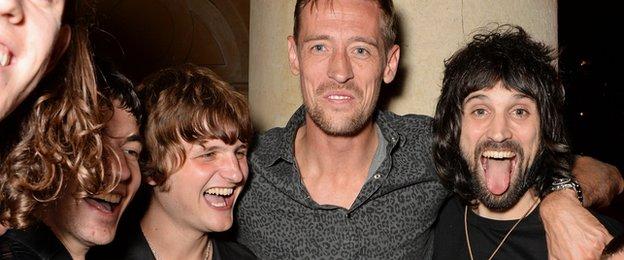 Which rather sums up Crouch's approach to the world.
For a long time he has either been beset by caveats or cliches - the hoary old 'Good Touch for a Big Man' thing, or its converse, the criticism that for a chap of 6ft 7in he wins too few headers.
On a day I am casually offered a cappuccino at the Stoke City training ground, it feels appropriate to ditch a few stereotypes. A few weeks short of Crouch's 34th birthday, you sense he has matured into something else: the millionaire striker everyone likes, the one you'd actually rather like to be.
All those goals, all those assists. An England record that is by any statistical measure outstanding. Enormous houses in the spacious parts of London and the snooty part of Cheshire. A wife whose profile precedes her.
We should hate him. Instead he somehow still seems like one of us. It's tempting to subvert the old George Best line: Peter Crouch, where did it all go so right?
He snorts through his nose, something else Ronaldo and Beckham don't do.
"Listen, I try to enjoy myself. I'm doing the best job in the world. There are so many people who'd like to be in my position," he said.
"I've played for England, I've been lucky enough to do this for a long time. So why can't you do it with a smile on your face? Why can't you laugh at the situation you're in?
Crunching the Crouch numbers
More goals for England (22, 16th in all-time list) than Kevin Keegan (21), Steven Gerrard (21) or David Beckham (17)
Scored for England every 99 minutes - better than Gary Lineker (136), Michael Owen (155), Wayne Rooney (165), Alan Shearer (182)
Scored more Premier League goals (92, 30th overall) than Dennis Bergkamp (87), Fernando Torres (85), Cristiano Ronaldo (84)
Has more Premier League assists (53, 13th overall) than Dennis Bergkamp (49), Cristiano Ronaldo (46), Paul Scholes (45)
Eight clubs have paid more than £43.5m for Crouch in transfer fees during his career, the highest being Stoke's £11m in 2011
"I know I'm very lucky to be in the position I'm in, and that at some point I won't have it any more, that someone will take it away from me. Too many people seem to be playing football with a grimace on their faces these days, so I think if you can play like you're enjoying it that's the right way to do it."
A goal every other game for England is one thing. But nothing wins over a British audience like a little self-deprecation, which brings us to something else Crouch is famous for: his answer when asked what he would have been if he hadn't made it as a professional footballer.
You know the one, suggesting in not so many words that he would probably have been markedly less successful with the ladies.
Too good to have been spontaneous, surely? Pre-prepared and rolled out before?
"I was joking around, and it was off the cuff." He pauses and grins. "Obviously, I do like to think I would have had a couple of options…"
Crouch puts his outlook down to the circuitous route he took to the top; sent out on loan as a young pro at Tottenham to the prosaic (Dulwich Hamlet) and the not as glamorous as they sound (IFK Hässleholm). Aged 20 he was dumped by Spurs without having made a first-team appearance, sold on to QPR for a token £60,000.
Only when he was 24 and scoring goals at Southampton for his greatest managerial supporter, Harry Redknapp, did he actually convince himself he could make it, £9m in transfer fees further on.
"If you go from being a kid at school to being on £60,000 a week, that can be hard to deal with. I didn't have that, and maybe that's kept me a bit more grounded than some players.
"Even when I was at the top, playing in the Champions League final for Liverpool and playing at the World Cup for England, I've never let it go to my head. I'd like to believe that I'm still the same person I was when I was younger."
Striking out: Crouch's career stats

Year
Club
Games
Goals
2011-present

Stoke

138

37

2009-11

Tottenham

60

24

2008-09

Portsmouth

48

16

2005-08

Liverpool

93

42

2004-05

Southampton

24

16

2003

Norwich (loan)

14

4

2002-04

Aston Villa

25

6

2001-02

Portsmouth

39

19

2000-01

QPR

42

12
What would the 10-year-old Crouch, growing up in west London admiring Chelsea forward Kerry Dixon and so keen on Italy striker Gianluca Vialli that he bought a replica Sampdoria shirt, say to the adult Crouch if he saw him today?
"I genuinely don't think he would believe it. Even when I went to QPR I was only fifth-choice striker, but it just so happened that the other four got injured and I was thrown in the deep end. I ended winning player of the year, scoring 25 goals, and then that was the road."
What if he were one of us, watching on from the stands or on Match of the Day - is he the sort of player he would like?
"Of course! I play the game wholeheartedly. I put everything I have into every game I play. I know my strengths and weaknesses and I play to them. I've affected games in the right way down the years and I'll continue to do that.
"You see fans every day who want to talk about games or goals or other aspects, and I try to make time for them as much as possible. You can't please everyone, but you do your best.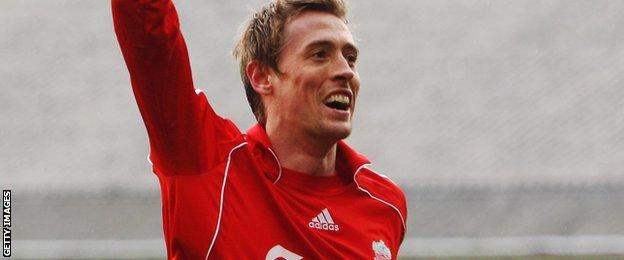 "I've always tried to be open and approachable, whereas some players these days make it very hard to approach them. They keep an aura around them, but I like to get away from that as much as possible."
Which brings us back nicely to the Kasabian high-jinks. In a world of camera-phones and viral videos, it's difficult to imagine any other Premier League star allowing himself to be borne aloft while those who aren't cheering with delight are desperately trying to film it all. It's impossible to imagine any of them doing it with quite the same look of happiness on their face.
Crouch attempts to look sheepish.
"As soon as I was up there I thought, this isn't great, I shouldn't be doing this. It was my crowd-surfing debut. Maybe I'll have to stand at the back next time."
He can't pull it off. Because that is him: up on top, being himself, savouring every single second.
Listen to an In Short clip of the interview with Peter Crouch from 5 live Sport with Mark Chapman.