Cardiff City: 'Unity' key to blue return - Mehmet Dalman
By Rob Westall
BBC Sport Wales
Last updated on .From the section Cardiff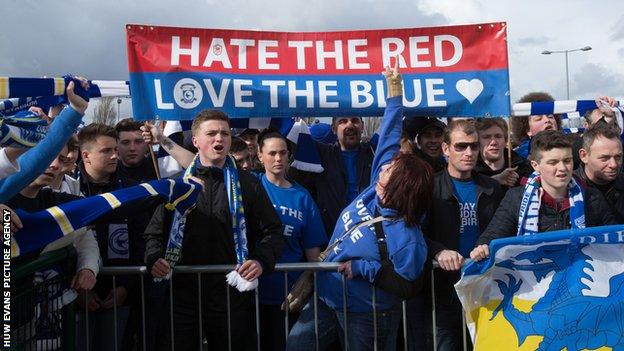 Cardiff City chairman Mehmet Dalman says the "need for unity" at the club was the central factor behind owner Vincent Tan's decision to change the club's home kit from red, back to its traditional blue.
The rebrand to red introduced by Tan in June 2012 had been controversial and led to years of infighting amongst supporters.
Since the change, fans campaigning for a return to blue, would chant "we'll always be blue" after 19 minutes and 27 seconds [Cardiff won the FA Cup in 1927] at home games.
Attendances have fallen since Premier League relegation in 2013-14, but supporters at Thursday's meeting claimed fans would return if the kit reverted to blue.
Dalman said the respect shown to Tan by supporters at the consultation had been "very important" in bringing about the change.
"Moving two very strong views closer together, it needed give and take on both sides," he said.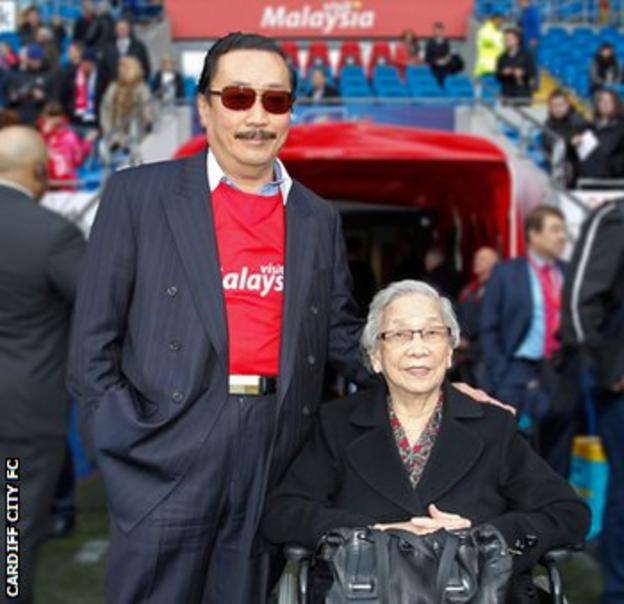 "I think Vincent [Tan] demonstrated his ability to make big decisions and he has done that and I think the fans showed their desire for this club to be strong and united.
"I hope it will grow from here and I hope we are going to have a lot more dialogue and get together with the fans.
"We are going to embrace this, this isn't a temporary thing, this is a permanent decision."
Tan said in a statement he had come to his decision with "the guidance, blessing and influence" of his mother.
"My mother, Madam Low Siew Beng, a devout Buddhist, who attended Cardiff City Football Club to watch them play, spoke to me on the importance of togetherness, unity and happiness," said Tan.
Vincent Tan and Cardiff City
May 2010:
Malaysian consortium takes major shareholding in Cardiff City
June 2012:
Tan announces Cardiff will play in red, not blue, and a change in the club's badge. A large body of fans are quick to express their opposition.
April 2013:
Cardiff City promoted to the Premier League.
December 2013:
Malky Mackay sacked as manager, replaced within a month by Ole Gunnar Solskjaer.
May 2014:
Cardiff relegated from the Premier League.
On the field
The Football League has given its permission for Cardiff to change their playing strip mid-campaign and the players will wear blue shirts for Saturday's home Championship game against Fulham.
Cardiff, who are hoping to return to the Premier League at the first attempt, are currently 12th in the Championship, nine points off the play-off places, without a league win since November.
Dalman feels the rebrand and the opposition to it has affected Cardiff's performances this season.
"If I'm really honest about this, I sometimes watch the games and I say: 'Who are they playing for? The shirt? The badge? The manager? The owner?'"
The ultimate aim is to see results improve says the chairman.
"We are better off uniting the fan base and the club and the team together before we can begin to tackle some of the other bigger issues," he said, "which is winning games, which at the moment we are not doing.
"We need that 12th man and on Saturday for example, I hope we have the 12th man - I wouldn't want to be Fulham on Saturday would you?
Still committed?
Cardiff were on the verge of administration when Tan took over the Welsh club in May 2010 and survived three winding-up orders in the 2009-10 season over unpaid taxes.
An outstanding debt of £24m to main creditors Langston - whose spokesperson is former Cardiff City owner Sam Hammam - was settled in July 2013.
In January 2014, Cardiff City reported a loss of £30m for the 2012-13 season, when they were promoted to the Premier League, and the club's overall debt rose to £118m, with just over half - £66m - owed to Tan.
Dalman says Tan is still committed to the club despite abandoning his rebranding strategy.
"He's a man who wants to win," said Dalman.
"He wants this team back in the Premier League. So he's fully behind the club, he's fully behind the team, he's fully behind the manager and I hope he's fully behind the board," joked Dalman, "so yeah his commitment has not changed."

Fans to address board meetings?
Cardiff City Supporters' Trust has previously called for fan representation at the club's board meetings.
The change to blue makes this more likely according to Dalman.
"He's [Tan] open to that idea," said Dalman.
"I think we've already made some bridges and I think that this decision I think will help us get there much faster, that we invite a representative of the fans to attend the beginning of every board meeting to tell us their views or I start meeting with the fans groups or representatives before every board meeting."
Players' briefing
Dalman informed the playing and coaching staff of the decision before the decision was formally announced.
"They are very professional players," said Dalman.
"We've had a very open discussion with them, we need that 12th man and I hope this gives it to them.
"We want to be transparent we want to be open. That's always been my philosophy, it's not easy to execute at times, but we will continue to try to do that and now it's time to bring the players into that.
"I think [the players] feel it's the right decision. I think they are looking forward to running out onto that pitch with 20,000-odd people giving them that lift and the push that they want."