Blackpool Supporters Association cut ties with Karl Oyston
Last updated on .From the section Football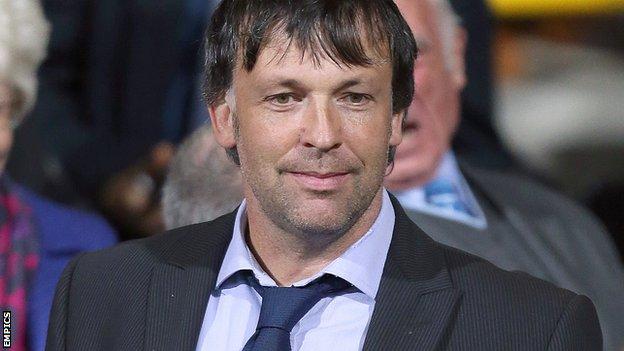 The Blackpool Supporters Association (BSA) has withdrawn from talks with club chairman Karl Oyston in protest at his treatment of fans.
"The chairman's recent words and actions have alienated supporters and brought our club into disrepute," read a BSA statement.
"We once again want a club where all supporters feel they are valued."
The BSA has previously stated that it aims to "provide a link between the club and its fans, and to maintain a positive two-way relationship for the benefit of both parties".
Karl Oyston is being investigated by the Football Association over text messages in which he allegedly called a supporter "a retard" in December.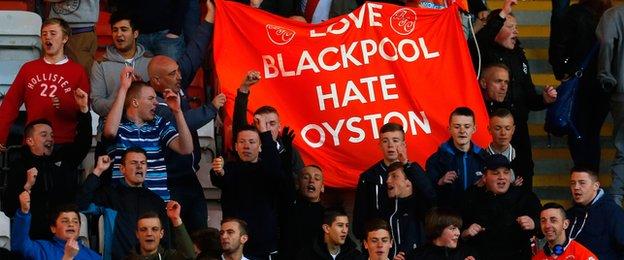 Despite Oyston's apology, the content of the messages prompted club president and shareholder Valeri Belokon to call for his resignation.
Since the incident Karl and club owner Owen Oyston have started legal action against several fans who they claim have made false accusations over their management of the club.
One of the supporters being sued by the Oystons - Tim Fielding - has stepped down as chairman of the recently formed Blackpool Supporters Trust to ensure the dispute does not prevent his own group from talking with the pair.
Owen Oyston took control of the Blackpool in 1988 and oversaw their rise to the Premier League for a single season in 2010.
However fans have been frustrated by their failure to challenge at the upper end of the Championship in the past two seasons.
In April, some fans halted a game against Burnley by throwing tennis balls and tangerines onto the pitch as a form of demonstration against Karl Oyston.