Arsenal 3-0 Stoke: Joey Barton on what sets Alexis Sanchez apart
Last updated on .From the section Arsenal

MOTD2 pundit and QPR midfielder Joey Barton expands on his TV analysis of why Alexis Sanchez is Arsenal's key man this season after seeing him score two goals and make a third in Sunday's 3-0 Premier League win against Stoke.
Arsenal forward Alexis Sanchez has been involved in 19 Premier League goals this season - more than any other player - but the impact he has made for the Gunners goes far beyond just goals and assists.
I was critical of Sanchez when they bought him from Barcelona in the summer and said he was inconsistent. But now I would love him in my team. Liverpool must be kicking themselves that they could not sign him.
Technically, I still do not think he is the greatest and he does not always hurt the opposition with a great bit of skill.
Of course, he does have a lot of quality on the ball, but what makes him a fantastic player and such a threat is more related to his energy and attitude.

It feels like Sanchez is constantly in motion and, on top of that, he never gives up.
And he does more than just hurt the opposition on his own - he has become the talisman of this Arsenal team because of the effect he has on his team-mates too.
Persistence brings rewards
If Sanchez gets a second chance at something, his reaction speed to seize upon it is probably his biggest asset.
He showed that against Stoke on Sunday, with his assist for Laurent Koscielny's header and then the way he scored himself to put Arsenal 2-0 up. Both goals came from what you could call his mistakes.
For Arsenal's first goal, Sanchez's cross for Koscielny was a result of a really poor corner that did not beat the first man, but his persistence meant he still made something of it.
The Gunners' second goal came after Sanchez tried to play a quick pass inside, realised he had given the ball away, but followed it up to try to win it back.

Stoke's Steven N'Zonzi took the ball away from goal, but Sanchez was on to it so quickly to nip in front of him.
Then he showed great balance to ride N'Zonzi's tackle and keep moving towards goal before shooting into the bottom corner.
It is important to pick that incident out because it is a great example to kids for two reasons.
Firstly, a lot of flair players like him might have thrown their hands up in the air and just walked away when they lost possession - but here is a player who made a mistake and gave the ball away, but kept going and got his reward.
Also, he could easily have gone down under N'Zonzi's challenge but Sanchez wanted to stay on his feet because he wants to score goals.
Sanchez inspires his team-mates too
I was pitch-side at Emirates Stadium for Arsenal's 2-1 win over my QPR team on New Year's Day and Sanchez was outstanding. He was the difference between the two sides.
He was constantly asking us questions and probing for a weakness.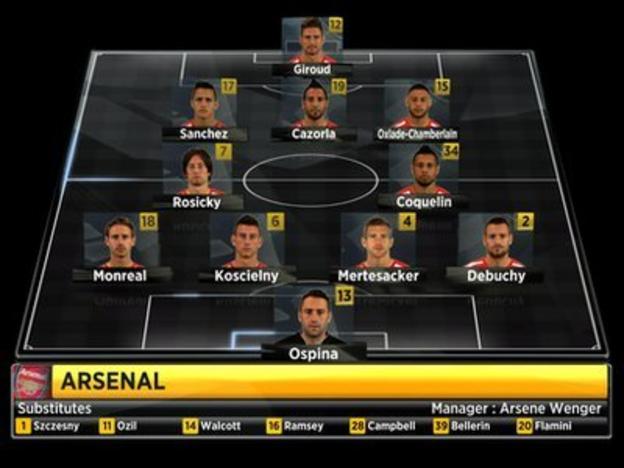 He has seven assists to go with his 12 league goals this season but it does not matter that he does not always play the final ball when Arsenal score, because he gives them the momentum to get on the front foot in the first place.
You don't always get a direct correlation between someone making things happen and getting a goal or an assist like Sanchez did against Stoke, but even before that game it was blatant that he is the key to making the Gunners tick.
Sanchez lifts everyone's standards because he sets the tone and the tempo with his work-rate, and it is a precedent that the rest of the Arsenal team have to follow.
As a player, I know that if I see one of my team-mates running everywhere then I have got to do the same, otherwise people will notice.
So someone like Sanchez sets off a chain reaction because you cannot take a breather if he is charging round, pressing and closing people down.
It was interesting to hear that he said he wanted to play in the FA Cup last weekend when he was offered the chance to rest.
He did not suffer any after-effects from playing in the World Cup for Chile and he does not seem to get tired.
Even in the second half against Stoke, he kept going when Arsenal were 3-0 up, and that says a lot about him.
He already had two goals and an assist - at least until the dubious goals committee look at his free-kick for Arsenal's third goal - and at that stage a lot of players would already be thinking about the next game.
Instead, he was still working hard and did not stop chasing the ball. When Steve Sidwell hit it short he nipped in and was unlucky not to hit the target with his lob.
Sanchez not only inspires his team-mates, but also the Arsenal fans.
They can be guilty of being quiet at Emirates Stadium from time to time but, with him in the team, they have a player who gets them off their seats and makes them get behind their team.
Stopping Sanchez - easier said than done
Teams know Sanchez is Arsenal's main threat but knowing that and dealing with it are two totally different things, especially with a player as good as him.
Most players do not like being put under pressure but Sanchez is the sort of player who is almost more dangerous when you try to mark him tightly.
You cannot get too close to him because he is so strong, quick and well-balanced that he can go past you either way.
Although he does not really slam in many goals from 30 or 40 yards, defenders still have a dilemma because if you stand off him he can pick a pass.
You start asking yourself questions and, if you hesitate, that helps him.

The only way to stop him is to double up on him, like Chelsea did when they beat Arsenal in October.
I have said before that Sanchez does not play well against the top teams, and certainly the Blues dealt with him a lot better than Stoke did.
The key is to tell one player to stand on him and stop him getting momentum, and tell another to clean up behind him.
You need to try to disrupt him every time he gets a pass and pick up any loose balls too because we know his reactions are so quick.
If you nullify Sanchez, you take away a lot of Arsenal's impetus - whenever I have seen them play poorly this season, it has coincided with the opposition stopping him.
But that is easier said than done because, if you do end up in a one-on-one situation with him, you are in trouble, no matter what you do.