Rangers' game against Hearts is a 'must win' - Nicky Law
Last updated on .From the section Football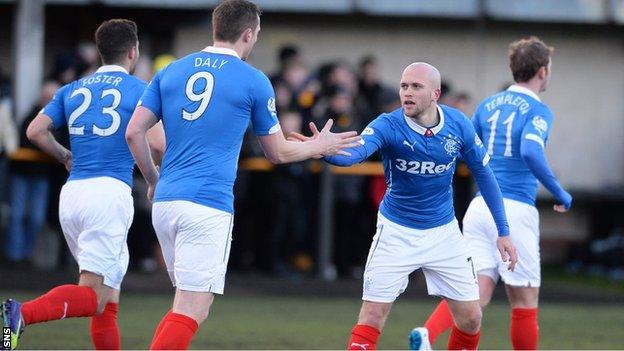 Nicky Law thinks a win against Hearts at Ibrox on Friday could kick-start Rangers' Championship title push.
The Edinburgh side have beaten Rangers twice this season and have a 13-point lead at the top of the table.
"It's a must-win game," said midfielder Law. "If we can get it back to 10, you never know.
"Unfortunately that is a huge gap to claw back but we will do our best to try and rein them in, starting on Friday night."
Law, who on a three-year deal, scored a first-half winner as Rangers beat Alloa 1-0 on Saturday to move eight points clear of third-placed Hibernian.
"The quality of player we have got, we know we should be doing a lot better than we have been doing," added the 26-year-old.
"Coming off the bad form that we had in December, it was important that we got the new year off to a good start and won the games we've played.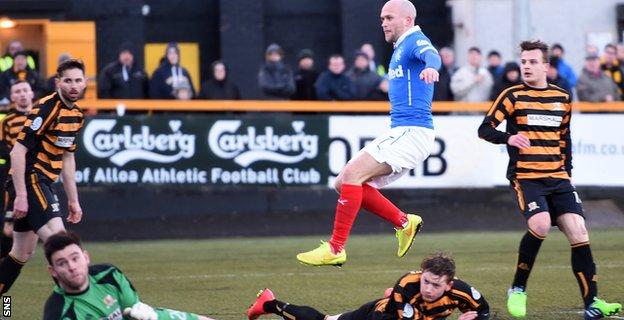 "Confidence has been low after the defeats that we've had, so it was going to be a fight to get that back and the two wins that we've now had in a row were important for us.
"We need to continue to build that confidence and nothing would give us more confidence than beating Hearts on Friday.
"It's going to be a great game, one that we're really looking forward to. If we can go out and get the win we can really push on from there."
Meanwhile, Rangers shareholder George Taylor believes the Ibrox club should eventually be controlled by supporters.
Taylor and his partners Douglas Park and George Letham hold close to a 20% share and have offered to invest £6.5m.
As the battle for hearts and minds continues, Taylor has signed up with fan-ownership group Rangers First.
"My hope is that direct fan ownership would become the biggest individual owner of Rangers," he said.
Rangers First have upped their holding to 0.8%, having been gifted 10,000 shares by Jim McColl and having purchased a further 60,000, while The Rangers Supporters Trust has increased its stake to just over 1%.