Hamilton Academical: Martin Canning wants more of the same
Last updated on .From the section Football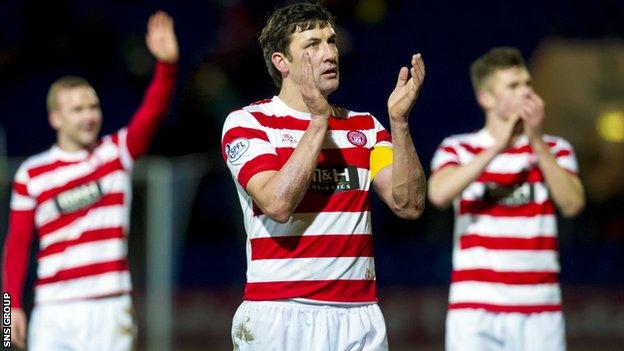 Hamilton's new caretaker player-coach Martin Canning is not planning any major changes for Monday's Premiership home match against Dundee United.
The 33-year-old defender takes over from Alex Neil, who left New Douglas Park on Friday.
"Things have got to remain the same because what we have been doing has obviously been working," said Canning.
"The biggest thing for me is to try to maintain the continuity. It is my job to make sure everyone is focused."
Canning, who joined the Accies in 2008, has been a key player in what has been a fantastic season for Hamilton following promotion from the Championship.
A win over United would take the Lanarkshire side level on points with second-placed Celtic.
"There will be tweaks because obviously you have different ideas and different opinions on certain things but on the whole, what we have been doing has been working so there won't be any wholesale changes," explained Canning.
"This will obviously be my first time picking a team and potentially playing in it - and that is decision I will need to think long and hard about.
"But we will be trying to keep it as similar as we can and hopefully we can play well on the night.
"Dundee United are a great side but we have done equally as well this season. It is live on the television so it will be a big occasion and we will be up for it."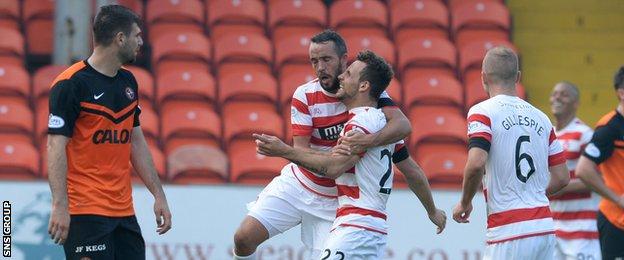 As well as captaining Hamilton, Canning has been coaching Accies Under-17s but his promotion to first team duties has come as a surprise following Neil's move to Carrow Road.
"It happened very quickly and it has been a whirlwind for everybody," he said.
"I didn't work closely with Alex but I had a little insight into what he did and I will have to learn it as I go.
"It is a totally different working day. It will be a lot more hectic and there will be a lot more to do.
"Obviously on top of that I will still need to train. But I will find out what works for me and get on with it."
Prior to his first game in charge, Canning insists that he has not had time to consider whether or not he wants to remain in his new post permanently.
"I am putting all my efforts into Monday and then maybe next week I can start thinking about other things," he added.
"If it is in your nature to stay in the game it is obviously in your thoughts but this has come totally out of the blue. It is an opportunity but it wasn't something I was expecting this soon."