St Mirren: English group Aspiration withdraws takeover interest
Last updated on .From the section St Mirren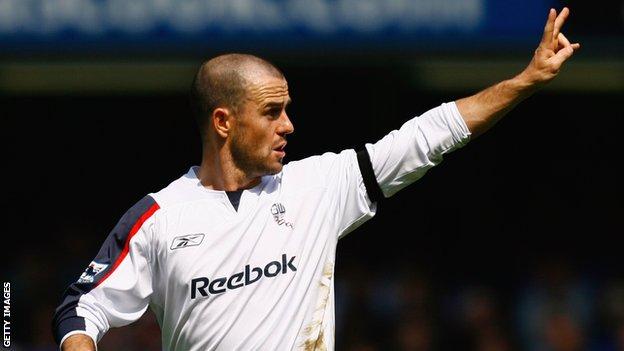 An English consortium that says it had lined up former Liverpool midfielder David Thompson as manager has withdrawn its interest in buying St Mirren.
Aspiration Holdings Ltd has blamed "the complete lack of communication and contact" from the Paisley club's board.
An Argentine consortium has also been in talks with the Scottish Premiership outfit over recent months.
But Aspiration has claimed that its takeover was "due to complete on Xmas Eve" only for St Mirren to cancel.
Club chairman Stewart Gilmour and his Douglas Street Ltd group, who have yet to comment on the statement from the English consortium, put a 52% controlling stake in the club up for sale in September 2009.
Aspiration discounted suggestions in newspaper reports that St Mirren had withdrawn from negotiations because they discovered that one of its associates, Thavar Mohammed, was sentenced to six months in jail in 2011 at Newcastle Crown Court after being found guilty of a fake business deal.
It insists that Mohammed was only an advisor and not involved financially in the takeover proposal, which was being led by Jas Narang of the Bradford-based Narang Group, which has interests in textiles, electrical and plumbing, bathrooms, and food and drink.
"Recent accusations both verbally and in the press regarding this takeover were purely designed to detract from the deal being completed successfully, in our opinion, as both parties were fully aware months ago of Mr Mohammed's history," a statement from Aspiration read.

"The proposed purchase was being done without utilising the club as an asset, with 100% private funding."
Aspiration said that, over the six months up to Christmas, it had "extensive, sometimes difficult but always cordial negotiations" about the takeover.
"As the final parts of the agreement to purchase St Mirren FC were being completed at this time, we quickly moved to firm up a very strong management team anticipating the completion of the deal," it said.
"We had a team manager, assistant manager, director of football, head of recruitment and a comprehensive European scouting facility lined up."
Aspiration had been keen to appoint 37-year-old Thompson, who also played for Coventry City and Blackburn Rovers, as manager before the new year.
"It was hoped that, when appointed, Mr David Thompson would take full advantage of the fast approaching transfer window, particularly targeting loan players he had already pencilled in," it stated.
"On the journey to St Mirren FC, on Xmas Eve, we were advised that one of the directors would not attend the meeting and therefore it would be impossible to proceed."
Aspiration also claims that a request for a further meeting to allow Thompson to explain his plans to the club was refused.
Gary Teale was appointed interim player-coach to succeed the sacked Tommy Craig on 9 December, since when the Paisley side have won one and lost five games to lie bottom of the Premiership table.