Cardiff City Supporters' Trust seek fan place on club board
Last updated on .From the section Football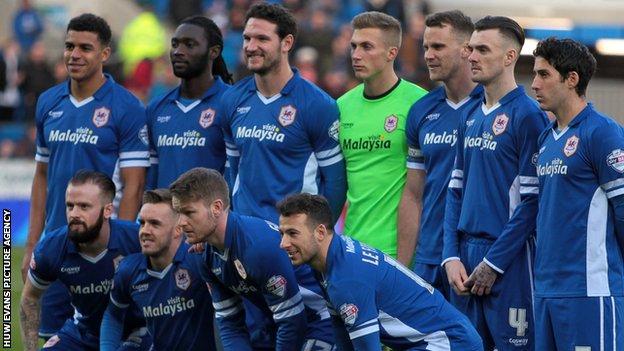 Cardiff City Supporters' Trust has urged the club to elect a fans' representative to its board following the return to the traditional blue kit.
Chairman Mehmet Dalman has said owner Vincent Tan is "open to that idea".
Trust chairman Tim Hartley cited rivals Swansea City as a successful example of a club electing a supporters' trust member to its board.
"We are meeting club executives next month and hope that this will mark the beginning of a new era," said Hartley.
"We have seen what a success having a supporter trust director on the board has been at Swansea City and we would like to see a democratically elected representative on Cardiff City's board."
On Friday, Tan reversed his controversial decision to rebrand the Championship club red in 2012.
The return to blue was welcomed by fans during the 1-0 home win over Fulham on Saturday, Cardiff's first match back in their traditional colour.
Now the supporters' trust would like to "discuss further the issue of conversion of debt to equity", as well as having a member elected to the club's board.
"The decision of the owner Vincent Tan to restore our club's traditional colours now opens the way to building a new relationship between the football club and its supporters," said Hartley.
"The last two-and-a-half years have shown that meaningful dialogue and engagement between the club and its supporters is essential as we move forward."