Hamilton 2-3 Dundee United: Canning proud of defeated side
Last updated on .From the section Football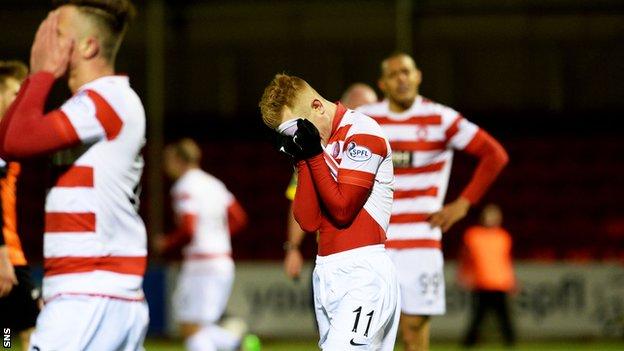 Martin Canning pronounced himself proud of his players despite their 3-2 defeat by Dundee United in his debut as Hamilton Accies' interim player-coach.
The 33-year-old took charge last week after Alex Neil moved to Norwich City.
"We are 2-0 down, a new manager taking the team, it is a change for everybody," Canning told BBC Scotland.
"To show that spirit and determination to come back into the game, I couldn't be more proud and I'm gutted to have lost the game in the way that we did."
United were in front thanks to goals from Stuart Armstrong and Gary Mackay-Steven, but Jesus Garcia Tena, with a wonderful free-kick, and Ali Crawford levelled the match before Sean Dillon's winner.
"In the first half, we didn't play particularly well and I thought we didn't really turn up," said Canning.
"I think you could see the nervousness and I thought the week maybe affected the players in terms of their performance."
Canning had dropped himself to the bench and restored Garcia Tena to the team, but the player-coach rejected the suggestion that he could have prevented the winning goal had he been playing.

"We were the team in the ascendency at that time when we came back from 2-0 to 2-2 and I thought that, if anyone is going to win this, it is going to be us," he said.
"And then to go and lose a set-piece goal is really disappointing. It happens, but somebody's lost their man.
"But you never know what would have happened. If I had been on the park, we might not have scored that free-kick and it goes 2-1 and that was what kicked us back into life.
"I felt I probably wasn't 100% bang on at it in the way I would want to be to play in a game and I thought the two boys that played did great."
Canning said he had been too caught up in events since Neil's departure to consider whether he wanted the job full-time.
"I will need to sit and digest it all," he said. "I will probably see it differently when I look at it tomorrow, but tonight I'm just devastated that we lost the game.
"It is outwith my control. There is nothing I can do. The club will decide what way they want to go."
United manager Jackie McNamara was just happy with three points that lift his side above Hamilton and Inverness Caledonian Thistle into third place.
"We make things hard for ourselves at times," he said. "We're exciting to watch, but we make things hard for our fans watching at times as well.
"I thought we were so comfortable in the game, but I'm pleased the way we came back again with Dillo getting the winner, which I thought we deserved.
"People look at the negative side, I look at the positives. We're the top scorers in the league.
"We scored three away from home tonight and we could've scored a good few more."