Transfer window could prove crucial to Celtic's season

By Richard Wilson
BBC Scotland
Last updated on .From the section Celtic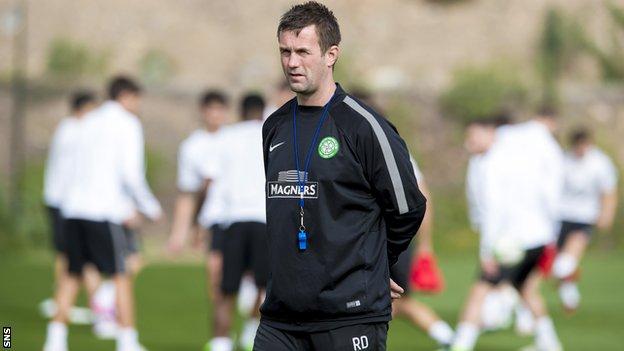 A spell of warm weather training in Gran Canaria is not an escape for Ronny Deila.
The Celtic manager has issues to address, not least Aberdeen's persistence.
A genuine title race has not occurred since Rangers were last in the top-flight. Aberdeen are currently four points clear, but perspective is required, since Celtic have two games in hand.
Some have suggested that Celtic might now be rueful that they had arranged a week's training in the sun, but that presupposes an element of self-doubt in the squad.
They are not peerless this season, but improvements have been evident and the psychological demands of leading the division at a crucial time will be new to the Aberdeen players.

This has turned into a season of transition under Deila, when the Celtic hierarchy would have preferred his adaptation to have been quicker and more assured.
For comparison's sake, Celtic are nine points worse off at this stage than they were 12 months ago, while Aberdeen are five points better off.
It has taken time for Deila to impose his style of play, and his approach to management. As he points out himself, though, for all that there was inconsistency in the early part of the season, Celtic's last 11 league games have delivered nine victories, one draw and one defeat.
His celebrations when Celtic secured what was effectively a routine 2-0 win at Rugby Park seemed pointed. That could be interpreted as a manager feeling the pressure, but Deila is demonstrative, and he has been coming to terms with the challenges of leading a club of the size, stature and demands of Celtic.
He knows now that two games without a win can cause a surge of panic and agitation through the support. He also understands that the expectation is that Celtic win every domestic game comfortably.
There are nuances to be observed, though. Deila's assistant, John Collins, has referred to himself and Deila as "development coaches" rather than "results coaches". The point he was making was that they are focused on the team's performance as much as the outcome.

Celtic sought a strategy when they appointed Deila last summer - one based on a culture of player education and development, a team ethic based on an overarching philosophy, and a recruitment drive that looks to make the most out of signing players of potential.
Implementing that will take time, and the challenge for Deila has been managing that change while ensuring that Celtic meet their basic requirement, which is retaining the title.
There is no cause for enduring alarm, not least because Celtic have the strongest squad and many of the best individual players in the Premiership.
Failure, then, would reflect almost entirely on Deila's management. Few of his predecessors survived barren spells, and none of them failed at a time when Rangers weren't direct competitors.
He has problems to solve, though. This transfer window is indicative of the uncertainties that gather during a period of change. Deila's priority is to keep his key players, which specifically means holding on to Kris Commons and Virgil van Dijk.
Commons is out of contract in the summer and is a target for Bolton Wanderers, where Deila's predecessor Neil Lennon is now manager.

The player wants a two-year deal to stay at Celtic, and he is among the higher earners at the club. He scored 31 league goals last season and remains the most reliable source of cutting-edge creativity in the squad. He is also popular with supporters, but has never seemed an archetypal Deila player.
The Norwegian wants his team to press with athleticism and precision. Commons, for all his guile and technique, does not harry opponents, so Deila has to compromise his idealism to fit the player in.
The most successful managers make the best of their resources, but those that build sustained achievement at a club earn the time to shape the resources the way they want them to be.
Celtic can afford to dismiss low six-figure bids for the attacker, because his presence alone would strengthen Celtic's defence of the title. Deila can then remodel the squad from a stronger position in the summer - if he has earned the faith and trust of the fans by delivering success.

Van Dijk will inevitably leave, because the Dutch defender has ambitions to play in England, and crucially has suitors, too. Celtic want to hold off any deal until at least the summer, though, to allow for succession planning at centre-back and again to keep the best of the team intact when it comes to making a push for the title.
January is often an awkward month for transfers, since fees tend to be inflated. If Celtic can retain their best players, the more prudent approach would be to focus on the summer recruitment plans, because that was haphazard and ineffective after Deila first arrived.
Celtic have been monitoring Scottish international players and the best of the Premiership talent, including Stuart Armstrong and Nadir Ciftci of Dundee United, as Deila looks to strengthen the team's sense of identity. It is a shrewd move, even if the club has been successful in the last few years at signing players of potential from abroad.
Celtic remain a work in progress, but Deila has begun to make headway. Events of the coming weeks will still be critical though.