Cristiano Ronaldo urges Real fans to back Gareth Bale
Last updated on .From the section Football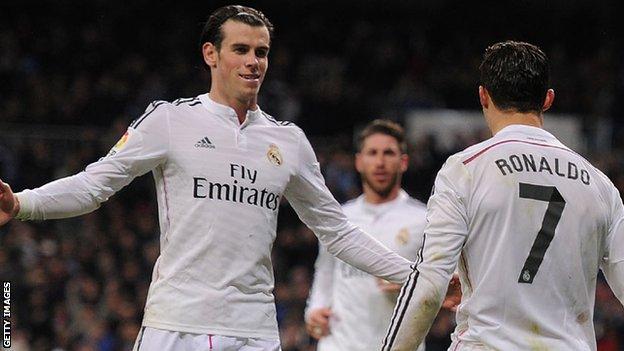 World player of the year Cristiano Ronaldo has urged Real Madrid fans to go easy on "key player" Gareth Bale.
Welshman Bale, 25, scored in Saturday's 3-0 win over Espanyol, but was jeered for shooting wide instead of passing to Ronaldo for an easy tap-in.
The Portugal forward looked angry at the time, but later said: "The people will be nice with him and they should be nice. Things with Gaz are normal.
"They [fans] know that Gaz is a very important player for us, a key player."
Ronaldo, who won the Ballon d'Or for the second successive time on Monday, added: "What happened on Saturday is in the past, sometimes I make mistakes too so it's part of the business, part of football.
"Madrid fans are always the same, they are very intense, they show what they feel, they aren't liars."
Bale became the world's most expensive footballer when Real paid Tottenham Hotspur £85m for his transfer in September 2013.
He scored a goal in their Champions League final win over Atletico Madrid, and their Spanish cup final victory over Barcelona in his first season in Spain.