Sheffield Wednesday: Milan Mandaric draws Leicester similarity
Last updated on .From the section Football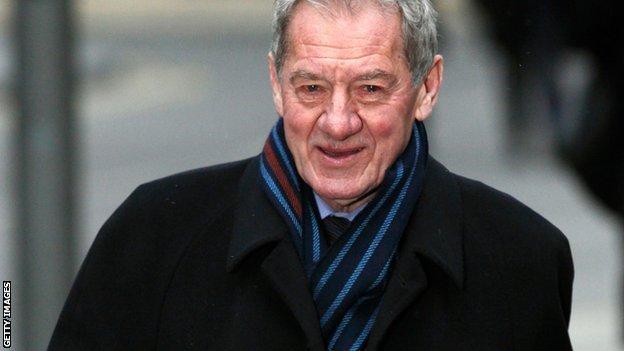 Chairman Milan Mandaric says Sheffield Wednesday are stable enough to sell and reach the Premier League shortly after, like previous club Leicester.
The Foxes were promoted last term, four years after Mandaric sold them.
Wednesday, who are currently ninth in the Championship, are reportedly in "advanced talks" with Thai investors.
"There's always interest in our club and I'll gladly step aside if it can move forward like things at Leicester," Mandaric told BBC Radio Sheffield.
Sheffield Wednesday takeover timeline
14 December 2010: Milan Mandaric completes takeover
9 June 2013: Mandaric looking for a buyer as club losing £5m a year
10 June 2014: Wednesday announce Hafiz Mammadov's takeover of the club
4 September 2014: Mandaric says Mammadov takeover has collapsed
12 January 2015: Thai consortium reportedly in talks with Mandaric
"We've had a good period of stability. It was a very similar situation there, a good buyer came in that could accelerate it and I was so happy to see them promoted."
Mandaric bought the Owls in late 2010 and saw them win promotion from League One the following season.
Four months ago, despite the club in June.
Now in their third campaign back in the second tier, Wednesday are just
"I don't like to comment on rumours, what I can say is we're talking to serious people," explained Mandaric.
"The Mammadov situation is in the back of your mind always. They've got to be serious people, you need to always learn and I was not very happy with that at the time.
"They leaked it out, they didn't handle it in the right way. It's not how I do business."