Karl Oyston: Blackpool chairman asked by FA to explain text claims
Last updated on .From the section Blackpool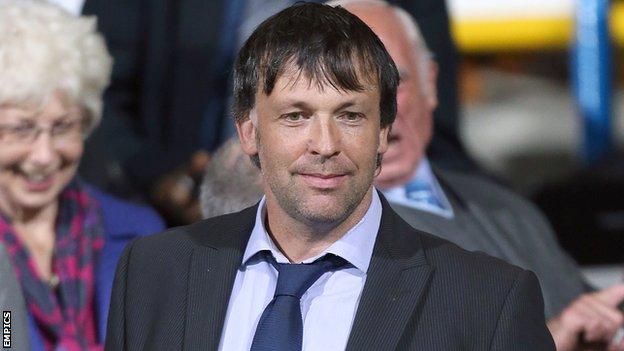 Blackpool chairman Karl Oyston has been asked by the Football Association for his version of events over allegations he called a supporter "a retard" during a text message exchange.
He has admitted sending the "unacceptable" texts in response to "a barrage of abuse" he received after his mobile number was put on social media.
Oyston has also apologised "unreservedly" for the messages.
He has until Thursday, 15 January to respond to the FA request.
The FA statement read: "Having only recently come into possession of all the relevant material, the FA has sought the observations of Blackpool chairman Karl Oyston in relation to text messages he is alleged to have sent to a third party."
Oyston, a member of the Football League's board of directors, is alleged to have called Stephen Smith "a retard" and told the individual to "enjoy the rest of your special needs day out".
During the text exchange, Oyston used numerous swear words and also allegedly called Smith "educationally subnormal" and a "sad act".
He is also reported to have told Smith that he has banned him from the club's Bloomfield Road ground.