Sean Dyche: England 'shining lights' need more credit
Last updated on .From the section Football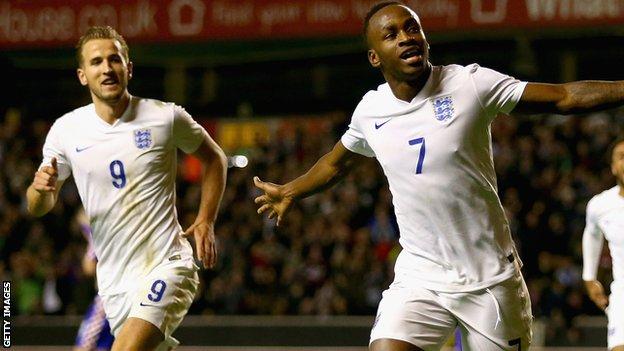 Burnley manager Sean Dyche says English football has been "brainwashed" into playing down its qualities and has called for the country's emerging stars to be given greater encouragement.
Dyche claims "shining lights" such as Danny Ings and Harry Kane are under-appreciated compared to foreign stars.
"I think we're all guilty of it at some point," Dyche said.
"We've all been brainwashed by it, that we're not as strong nationally. We've just got to be careful."
In 2013, Football Association chairman Greg Dyke set up a commission to assess the future of the sport in England and it has returned a series of proposals designed to improve the fortunes of the national team.
Leading English Premier League scorers 2014-15
Charlie Austin, Queens Park Rangers - 19 appearances, 13 goals
Saido Berahino, West Bromwich Albion - 21, 9
Harry Kane, Tottenham Hotspur - 17, 8
Wayne Rooney, Manchester United - 16, 8
Danny Ings, Burnley - 18, 6
"We keep moaning about our national side, and then there are a million questions about all these development plans," Dyche added. "We have to think, 'hang on a minute, where are we really at?'.
"When we get some little shining lights here and there, it's sort of like, 'Oh well', and then we go back to grumbling.
"We should enjoy it and encourage it, because they are the pathway for little Jonny aged seven who's playing in the park, saying, 'I want to be Harry Kane'."
Ings, 22, has scored six goals in his maiden Premier League campaign under Dyche at Burnley, while 21-year-old Kane has scoring 18 goals in all competitions in his first full season at Tottenham.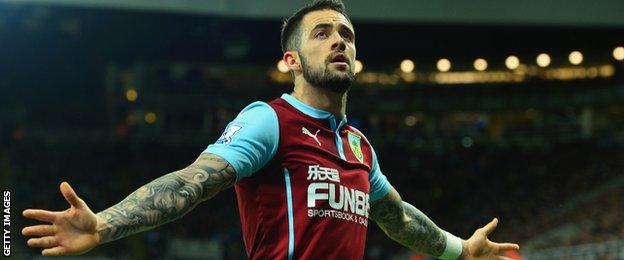 QPR's former Burnley striker Charlie Austin, 25, has also impressed, as has 21-year-old West Bromwich Albion forward Saido Berahino, who earned a first call-up to the England squad in November.
Dyche added: "It seems to me that if a British player does something, the reaction is, 'Oh yeah, decent', whereas when it is someone brought from other shores for a big fee it's, 'Look at that, isn't it amazing?'.
"Just because Harry Kane hasn't been brought in for £50m, it doesn't mean he's not a good player.
"There's a balance to it. But I think it's good these young British players are playing in the Premier League. It is the way forward as regards the national systems because it's the highest level they can play at."