'Only one Sir Jack Hayward' - Mr Wolves in anecdotes
Last updated on .From the section Wolves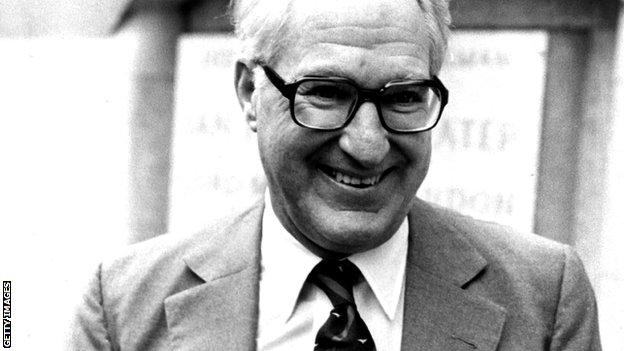 'Glad to have helped'
Former Wolves owner Sir Jack Hayward visited the museum at Molineux last year and left that simple message in the guest book.
Following his death on Tuesday, aged 91, the words fit perfectly as an understated epitaph to the humble philanthropist businessman who pumped £70m into his beloved local football team, rebuilt a crumbling stadium and then sold the club for just £10 after 17 years.
BBC Sport's Pat Murphy and Wolves Vice President Baroness Rachael Heyhoe Flint - a close friend of Sir Jack's - recall their favourite memories of the 'great man of Wolves'.
Fighter pilot, bon viveur, entrepreneur
Pat Murphy on Sir Jack Hayward's personality:
"Sir Jack was eccentric but generous. He loved good causes and bought Lundy Island for the National Trust. He also funded the England Women's cricket team in the 1970s.
"He rang his great friend Rachael Heyhoe Flint one day and said: 'I don't know Joanna Lumley, get hold of her for me can you Rachael? I want to save the Gurkhas'. He gave £1m to that campaign.
"He rebuilt a hospital after the Falklands War. He rang them and said: 'I'm sending you £1m'. He was a massive patriot. He loved this country and loved the Black Country.
"What a life he had: fighter pilot, bon viveur, entrepreneur."
Just one more signing please Sir Jack
Murphy on Sir Jack's passion for his hometown team:
"His love affair with Wolves began before the Second World War. He was born near Molineux and would slip under the turnstile as a young boy and get in for nothing. He used to joke that he owed Wolves for all those freebies.
"If you wanted to make up component parts of the ideal club chairman, then Sir Jack Hayward had the lot. He had romanticism but practical common sense, deep pockets, a willingness to be talked around to buying another player by a persistent manager and a respect for supporters.
"He was a great man of Wolves, a great club man and a throwback to the golden days when a local man ran a football club with the generosity, decency and spirit that Sir Jack did."
Jack and Billy
Murphy on Jack's idol and friend, Wolves legend Billy Wright:
"I remember sitting and talking to him and Billy Wright. Their relationship was wonderful. They adored each other, with a massive respect and affection, They used to finish each other's sentences they were so close."
Wolves for sale - yours for £10
Murphy on Sir Jack's legacy:
"When Sir Jack took over in 1990, Molineux was a shambolic and decrepit stadium and the club was falling apart. With his vision, enthusiasm, great contacts and respect, he helped transform the club and was just thrilled when they finally got promoted to the top flight in 2003.
"When he eventually sold the club to Steve Morgan he said: 'There you are for £10, but you'll have to put £30m in'. I can't think of many more owners who would be as philanthropic and decent to put all that money in and then sell up for nothing."
'I love women and I love cricket'
Baroness Rachael Heyhoe Flint on how she first met Sir Jack Hayward:
"I've been great friends with Jack since 1970, when I wrote him a begging letter and he said: 'Yes, I'll sponsor the England cricket team'. I asked why and he said: 'I love women and I love cricket'. He sponsored us for five years, but he also set up the first ever World Cup for women in 1973 - two years before the men. So cricket has got a lot of thank him for.
"He rang me the day before he was going to get the club and said: 'I've got it'. I asked: 'What, a nasty disease or something?'. He said 'No, I've got the club - Wolverhampton Wanderers. Get me a big reception ready, I want the mayor and everybody, the lot'."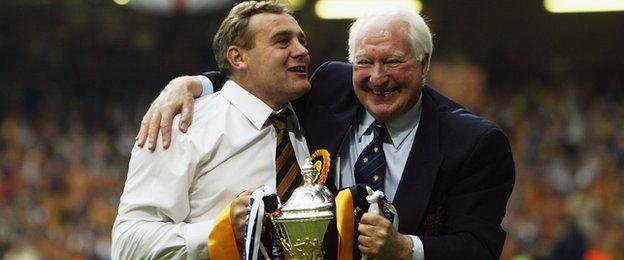 The saviour coming through
Baroness Heyhoe Flint on Wolves sealing promotion to the Premier League via a 3-0 win over Sheffield United in the Championship play-off final at Cardiff in 2003:
"I cannot describe how nervous he was before the match. He couldn't wait to get away from the hotel. He allowed himself four hours for a 30-minute journey.
"I took him straight through the middle of Cardiff, where all the Wolves fans were waiting pre-match. Well, it was like the saviour coming through. They were all kneeling - Hosanna in the street. They only needed palm fronds in their hands and I'd have thought this was a Biblical moment.
"He was adored by them and that was his greatest, happiest moment."
'There's only one Jack Hayward'
Baroness Heyhoe Flint on how Sir Jack was a supporter first and an owner second:
"I remember going up to Chesterfield for a cup match and it was a terrible night. We were hosed down with rain. Coming back, he said: 'We must give them all their money back, they're soaked to their skin those fans'. Poor Jez Moxey [the club's chief executive], trying to keep the balance sheet going. But this is Jack. Quixotic, loveable, for the fans."