Hibernian: Fan-ownership plan is 'watershed' moment
Last updated on .From the section Football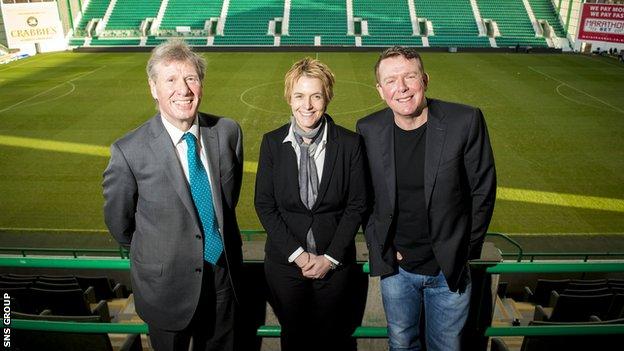 Hibernian intend to launch a scheme next month that would give fans up to 51% ownership.
And chair of the newly-created Hibernian Supporters Limited (HSL), Kenny MacAskill MSP believes it is "a watershed" moment for the club.
HSL will acquire shares with money from supporters of the Edinburgh team.
"It's about equality while providing collectivity, so we can ultimately obtain ownership of the club," MacAskill told BBC Scotland.
Last month it was announced that Hibernian planned to widen ownership by issuing new shares that would enable the holding company's stake to be diluted below 50%, should £2.5m be raised.
And fans will have the chance to sign up from 2 February.
Annual contributions have been set at a minimum of £225 a year or £18.75 per month and fundraising will continue until HSL has acquired all of the shares it can buy from Hibernian Football Club Ltd.
MacAskill, the MSP for Edinburgh Eastern and former Cabinet Secretary for Justice, said: "It's better that we do this collectively.
"Everyone will have one vote, one say, whether they contribute the minimum of £225 or chose to contribute more."
Hibernian announced a loss of £800,000 this week following relegation to the Championship but the club are now free of bank debt.
"Most of us recognise that there has been underperformance on the park and that we can do so much better," added MacAskill, who will be joined by former players Pat Stanton and Jackie McNamara on HSL.
"Equally, we recognise that we are in a good position comparable to other clubs in Scotland; we have an outstanding stadium and training facilities that are the envy of many.
"This is about buying in over a period of time to ultimately take control. This is the start of a journey. It won't happen overnight.
"But we are in a direction of travel which will ensure stability off the pitch and, I believe, increased ambition and success on the pitch."