FA Cup: Sheff Utd, rejecting Mourinho and Beech's Babes
Last updated on .From the section FA Cup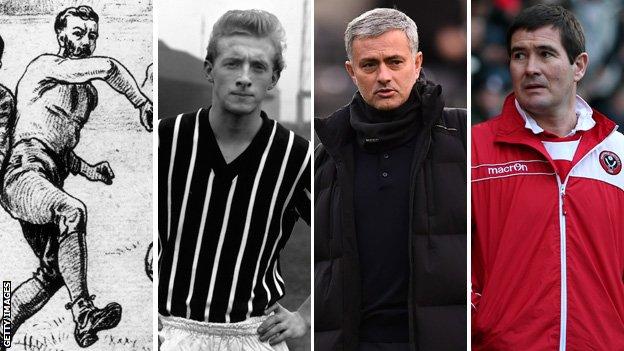 The FA Cup continues this weekend as 32 teams take to the field in 16 fourth-round ties.
From the team proving themselves the greatest giant-killers in cup history to the League One footballer who turned down Jose Mourinho and the unluckiest player in fourth-round history, BBC Sport takes a look at some of the interesting stories from this stage of the competition, both past and present.
The game's greatest giant-killers
Something strange has been going on at Sheffield United since Nigel Clough was appointed manager in October 2013. After he took charge of his first cup match the following month, the Blades have been an irresistible force in knockout competitions, while failing to match that form in League One.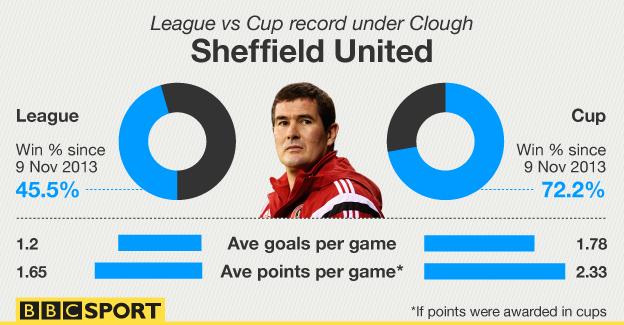 Indeed, in 2014 they set a record for shocks in cup competitions - beating six opponents from higher divisions: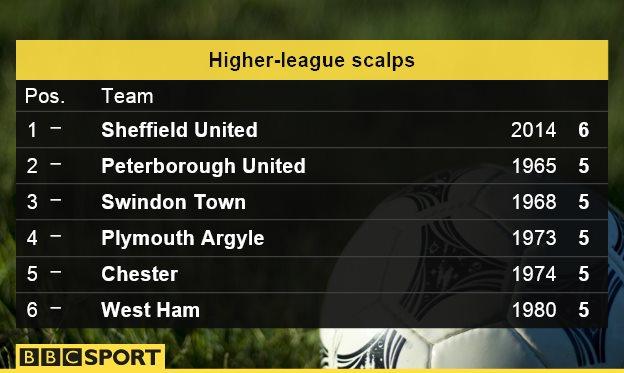 Since Clough took over, they have beaten five Premier League teams and lost just twice to top-flight opponents - the FA Cup semi-final defeat by Hull and Wednesday's League Cup semi-final first-leg game at Tottenham, a deficit they could overturn in the second leg: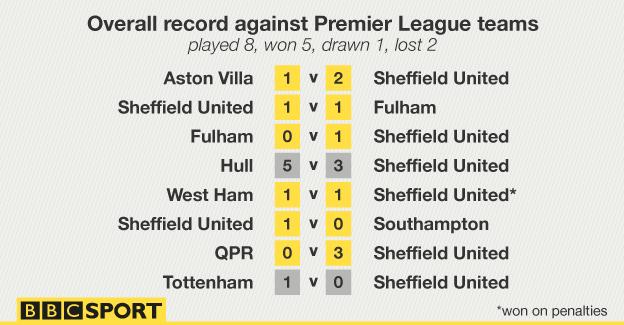 So good is Clough's record that, during his tenure, Sheffield United have played more games - and won more games - in cup competitions than any other team in the country: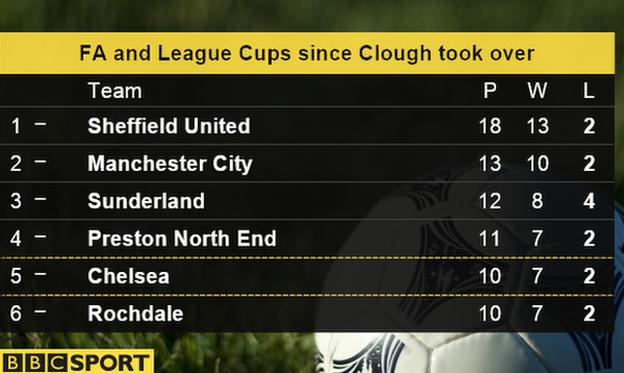 On Saturday their quest to continue their fine cup form takes them to fellow League One side Preston. Can they repeat last season's exploits and make it to the semi-finals?
The unluckiest player in fourth-round history?
From a story of success to one of misfortune - former Scotland striker Denis Law once scored six goals in a fourth-round game, but still ended up on the losing side.
The fixture in question took place in 1961, during Law's first spell at Manchester City.
Playing against second tier Luton Town at Kenilworth Road, Law had scored all of City's goals as the Division One side led the Hatters 6-2 before the game was abandoned in the 69th minute because of a waterlogged pitch.
The scoreline was subsequently wiped and the game played from scratch a few days later.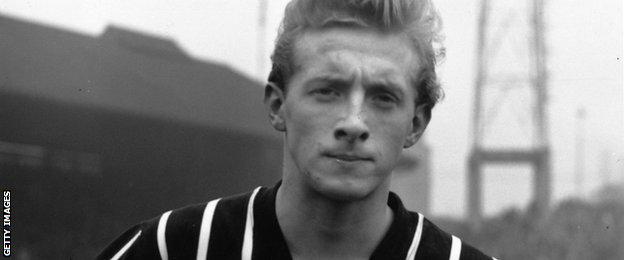 "At the time, I was fairly relaxed about it," Law, now 74 - who also played for Huddersfield Town, Torino and most famously, Manchester United - tells BBC Sport.
"I was only young. I just thought, it doesn't matter, we will beat them in the second game anyway. As it turned out, when we played again the pitch was far worse. The pitch was so muddy the ball didn't really roll at all."
Law did score again, but this time City lost 3-1.
"It just turned out to be a disaster," he adds. "The feeling at losing was far worse than the frustration at the first match being abandoned. We just felt it was a case of turning up and getting the same result."
To top it all off, those six goals would have ensured Law's name went into the FA Cup history books. If they had counted, he would have finished as the 20th century's top scorer in the FA Cup with 47 goals. That honour instead went to former Liverpool striker Ian Rush, who scored 44.
"I never scored six in a game after that," Law says. "The most I got was four, when I was at Manchester United. The only time I scored six was in a five-a-side game after I retired."
The man who turned down Mourinho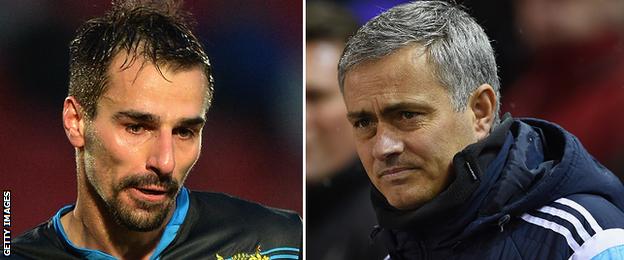 A Bradford City player scoring six goals at Stamford Bridge on Saturday is unlikely to happen, but Bantams winger Filipe Morais will probably be happy to score at least one goal against his former side.
Not many footballers would turn down the chance to play for Jose Mourinho, but just over 10 years ago Morais did exactly that.
Morais, 29, played in Mourinho's first game in charge in the Portuguese coach's first spell at Chelsea back in 2004 - a pre-season friendly at Oxford United.
"When he first came in, he got me straight in the first team group and got me really involved," says Morais.
"He was fantastic with me and it will be nice to see him again and say hello."
Morais got on the pitch for the final few minutes against Oxford United, but the closest he got to a competitive appearance for the Blues was a place on the bench for an FA Cup tie against Huddersfield.
"The one competitive game I was involved in, we were losing at the time so Jose brought on Arjen Robben instead of me," adds Morais. "He came on and got an assist and made the difference so it was probably the right decision."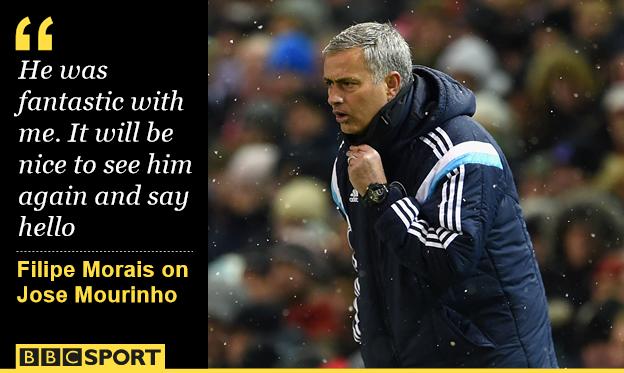 With Robben ahead of him in the pecking order, as well as Joe Cole and Shaun Wright-Phillips, Morais - despite the offer of a new contract at Stamford Bridge - decided his future lay elsewhere.
A nomadic career ensued as he played for several clubs including Millwall, Hibernian, Oldham and Stevenage before arriving at Bradford last year.
It is a club Morais now feels settled at and while he is thankful for the part Mourinho has played in his career, he hopes he can cause the Chelsea boss a headache on Saturday.
"We have a load of fans going down to the game and we want them to enjoy the occasion and we want to do the very best we can do for them all," he says.
"We want to go there and express ourselves and dream about the possibility of causing an upset."
The match that would not end
These days, the prospect of a cup replay in a pretty congested fixture schedule is something managers dread. Just ask Southampton boss Ronald Koeman, who recently bemoaned the need for his side to play a replay against Ipswich.
Spare a thought, though, for teams competing in the early days of the FA Cup. It was a time before penalty shootouts were considered a viable way of ending a tie, and it was not unknown for games to simply go on and on and on.
One such example was an FA Cup fourth-round game between Oxford University and Royal Engineers back in 1878.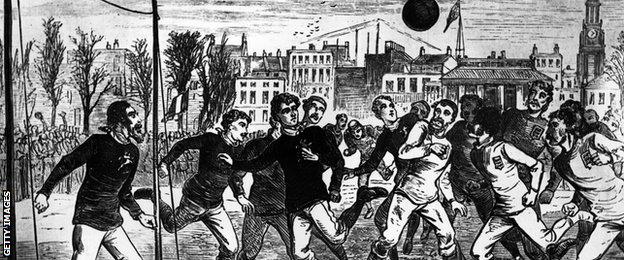 Initially, it all seemed pretty straightforward as the referee blew the final whistle with the Engineers winning 3-2. The outcome seemingly determined, fans and newspaper reporters wandered off home before the referee realised he had blown 15 minutes early and called the two teams back on to the pitch to complete the match.
In that time, Oxford scored an equaliser, meaning a replay would be needed. That encounter ended 2-2 and, after discussions between the two teams, it was agreed 30 minutes of extra time would be played, but neither side could find a winner before light started to fade - this being a time before floodlights existed.
"Another replay followed," writes author Paul Brown in his book The Victorian Football Miscellany. "After an exciting match, the tie finally arrived at what newspaper Bell's Life called 'a solution of the knotty point', with Engineers winning 4-2.
"Engineers went on to beat Old Harrovians in the semi-final but, no doubt exhausted, they lost in the final to Wanderers."
So chin up Koeman, it could be worse.
Rochdale's class of '92
David Beckham, Nicky Butt, Ryan Giggs, Paul Scholes and Gary and Phil Neville - The famous Class of '92.
They all progressed through the Manchester United youth system at a similar time to help the club enjoy a period of huge success.
Such a thing may never happen again in the Premier League but at League One Rochdale, the club's very own 'lower league Class of '92' has been making its mark in the FA Cup.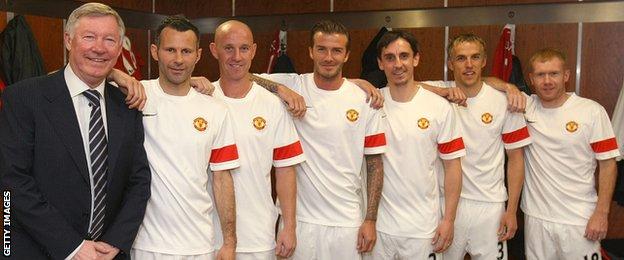 Six players who had progressed through the club's youth system featured in the squad that beat Championship side Nottingham Forest - who had £5m signing Britt Assombalonga playing for them - in the third round.
Callum Camps and Joel Logan made their first starts for the club in the 1-0 win, alongside fellow former youth players Jamie Allen and Scott Tanser, while Andrew Cannon and Jonathan Diba Musangu were on the bench - all of whom are 20 or under.
"Those six players were breaking records at youth level," Chris Beech, Rochdale's assistant manager who was previously youth team coach, tells BBC Sport.
"They were also a part of the side that reached the fourth round of the FA Youth Cup, the furthest Rochdale have been in their history and that's why I called them a lower league 'Class of 92' - they've all progressed together."
Next up in the FA Cup for Rochdale is a home tie against Premier League side Stoke City, who this week broke into the top 30 richest clubs in the world.
A turnover of nearly £100m is something Rochdale could only dream of, with the process of developing players and selling them on for profit crucial for many Football League clubs.
In recent years, youth team products Will Buckley (to Watford) and Scott Hogan (to Brentford) have left the club for six figure sums and if Rochdale can pull off an FA Cup upset this weekend then 'Beech's Babes' - as boss Keith Hill calls them - could turn a few more higher division heads.
"The club had in excess of a million pounds in terms of transfer fees when Will Buckley and Scott Hogan left," adds Beech.
"So in terms of having a group of talented individuals come through it is a real asset to the club.
"Keith has called them Beech's Babes and has thrown the gauntlet down to current youth team boss Tony Ellis to find 'Tony's teenagers'. He has quite the task ahead of him!"
Additional reporting by Simon Stone.