Hatem Ben Arfa angry at Nice move hold-up by Fifa
Last updated on .From the section Football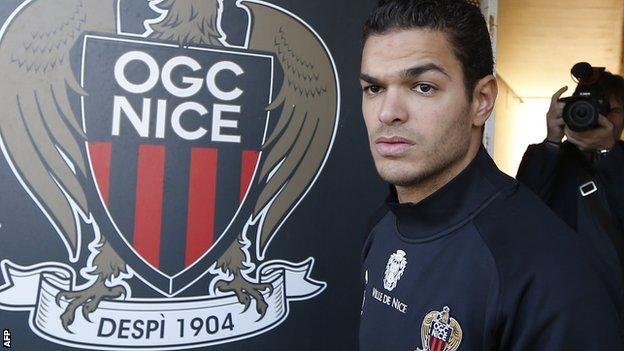 Midfielder Hatem Ben Arfa has voiced his frustration at Fifa preventing Nice from registering him.
The world governing body's transfer rules prevent a player from appearing for more than two clubs in one season.
"I do not understand why they would try to stop me from playing in France, my home," he said.
"Why always try to create problems where there are none?"
Ben Arfa played eight games for Hull and one for Newcastle's Under-21s earlier this season, with Fifa ruling the latter to be an official match.
"I have only one desire - to play again on the pitches of Ligue 1, to have fun with my team-mates, and to give pleasure to the fans who have welcomed me as ever," he added.
The France international, a free agent after his release from Newcastle, joined Nice on 5 January, but was not available for Saturday's 3-1 win against Lorient as he awaited international clearance.
Hatem Ben Arfa
Made his professional debut with Lyon in 2004, clocking up 64 appearances and seven goals before leaving to join Marseille in 2008.
Two years later, he joined Newcastle, scoring 13 times in 76 appearances.
He went out on loan to Hull in September, but has been told by Hull and Newcastle that he will not be required from January onwards.
The delay centred around article 5.3 of Fifa's regulations on the status and transfer of players, which states: "Players may be registered with a maximum of three clubs during one season.
"During this period, the player is only eligible to play official matches for two clubs."
A statement on Nice's website confirmed the club had received a copy of correspondence sent by Fifa to the French Football Federation.
It said that contrary to the position of the Football Association in England, Fifa had classed the U21 match for Newcastle United as "official".
French league legal officials are to look at the case on Tuesday, the club said.
Hull cancelled the player's loan deal after he fell out of favour with manager Steve Bruce.
Newcastle confirmed the day before he joined Nice that both parties had reached an agreement to terminate his contract with immediate effect and by mutual consent.