Swansea City will face 'best ever' Chelsea, says Garry Monk
Last updated on .From the section Football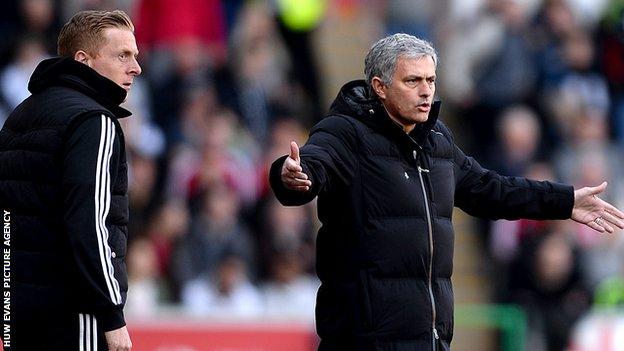 Swansea City will face the "strongest ever" Chelsea side in the Premier League on Saturday, according to their manager Garry Monk.
Chelsea are top of the Premier League table, two points ahead of reigning champions Manchester City.
Monk believes Jose Mourinho's current crop are the best Chelsea - title winners in 1955, 2005, 2006 and 2010 - have ever produced.
"It's probably the strongest squad I have ever seen at Chelsea," said Monk.
"They're a fantastic team - exceptional, world class players all over the pitch. They have got an exceptional manager as well.
"At the start of the season I said they were my favourites to win the league and I still believe that, albeit they have got competition from teams around them."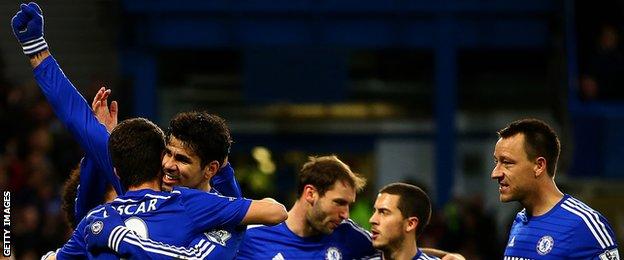 Swansea have not beaten Chelsea in the Premier League since winning promotion to the top flight in 2011.
The Swans did, however, win 2-0 at Stamford Bridge in the first leg of their League Cup semi-final in 2013 before going on to thrash Bradford in the final.
Monk's men are currently ninth in the Premier League table, and he expects Chelsea to provide one of their toughest tests of the season.
"It's a really good challenge for us," added Monk.
"I think they're an exceptional team, one of the best in Europe.
"It's a challenge for my players and it's a challenge for myself to really try and put on a performance and hopefully we can warrant a good result."