Darren Ferguson wants to stay on at Peterborough United
Last updated on .From the section Peterborough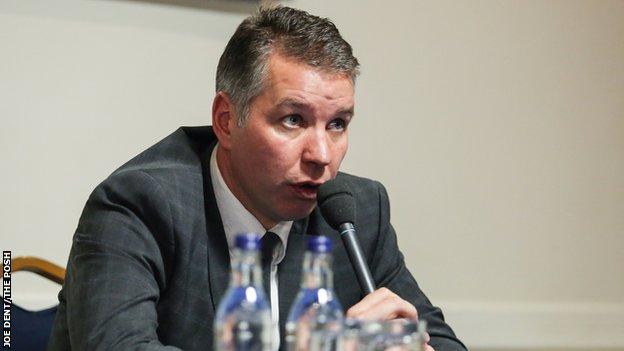 Peterborough boss Daren Ferguson has told supporters he would have quit by now if it was best for the club.
During a fans' forum on Thursday he said he may consider his position should Posh, who are 11th in League One, enter a relegation battle.
Speaking after the forum he told BBC Radio Cambridgeshire: "If I didn't believe I could change it, then I would walk away from it.
"But I do believe in what we're doing and I believe it will turn around."
He added: "I've been at the club a long time and I've got a huge respect for my chairman and if I felt it was going to make him suffer, then I'd make the right decision for the club."
BBC Radio Cambridgeshire sports editor Nick Fairbairn
"A feisty atmosphere was expected at the fans' forum but it didn't materialise. The tone was respectful and Ferguson arrived and departed to a round of applause.
"The manager was contrite. He agreed with many of the fans' concerns, admitted his failings and he had no appetite for confrontation - and there was none.
"Ferguson may not have convinced all of his detractors that he is the right man for the job, but he certainly earned respect, first of all by meeting the supporters, and then by the way he handled their questions."
Ferguson invited supporters to a discussion about the team's form, with Posh having won one of their last 11 league matches.
There has been concern among fans about the direction the club is heading in, and Ferguson, in front of an audience of 150, was questioned about the apparent lack of tempo in his side and whether that was evident in training.
"It's something we've addressed. Even today, the session was stopped and we went back in the afternoon and did it better," Ferguson said afterwards.
"The standards have got to go up. We are trying to do something about it.
"A lot of the points the fans raised were good observations and I agreed with most of them.
"But it's about how I get the best out of the players. As of yet it hasn't happened. But we're hoping that certain things we've tweaked in training will get results."