Brighton & Hove Albion announce £10.6m loss for 2013-14
Last updated on .From the section Football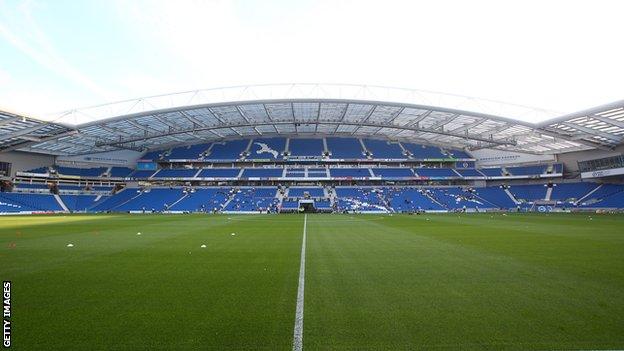 Brighton & Hove Albion have announced a financial loss of £10.6m in their accounts for the 2013-14 campaign.
The Championship club's net loss the previous campaign was £15.3m.
The improved figures are mainly because of a fall in operational costs, which were reduced by £4.5m to £12.1m.
"This set of results shows a significant improvement, and that is thanks to a lot of hard work to reduce our costs and boost revenues," said Brighton chief executive Paul Barber.
The Seagulls made a profit in the transfer market, following the sales of Ashley Barnes and Liam Bridcutt last January, while "football costs" rose from £19.88m to £20.7m.
Brighton finished sixth in the Championship table last season, losing in the play-off semi-finals to Derby County.
The Sussex club complied with the Football League's Financial Fair Play regulations but Barber added that they relied on the generosity of chairman Tony Bloom.
"Tony continues to cover the club's on-going losses and is committed to funding future losses," said Barber.
"Once again, on behalf of all fans, the board would like to place on record its sincere thanks to Tony for his incredibly generous personal support that continues to take the club forward."
Brighton's finances 2013-14
Operating loss: £10.6m (down from £15.3m)
Turnover: £24m (up from £23.3m)
Football costs: £20.7m (up from £19.88m)
Administrative and operational costs: £12.1m (down from £16.6m)