Rooney Rule: Would it help black and ethnic minority managers?
Last updated on .From the section Football
At present, there are just five non-white managers employed across the 92 clubs in the top four divisions of the English football pyramid.
Such a figure is in contrast to the playing side, where more than 25% of players are black.
Such a lack of diversity has caught the attention of the Professional Footballers' Association, whose chairman Gordon Taylor described a "hidden resistance" to the appointment of black coaches in the professional game.
BME managers in England's top four divisions

Keith Curle

Carlisle United

Jimmy Floyd Hasselbaink
Burton Albion

Chris Hughton

Brighton & Hove Albion

Fabio Liverani
Leyton Orient

Chris Powell

Huddersfield
One proposal suggested to increase the managerial demographic is the adoption of the 'Rooney Rule' that was introduced by the National Football League in the United States.
Under the rule, NFL clubs are required to interview a minimum one black or ethnic minority candidate for head coach and senior football vacancies.
Burton manager Jimmy Floyd Hasselbaink has previously said he would not want to be considered for a management role just because of the Rooney Rule.
For BBC Inside Out, former England international Sol Campbell went to find out what other figures would say to the possibility of the Rooney Rule in English football.
Inside the game: Managers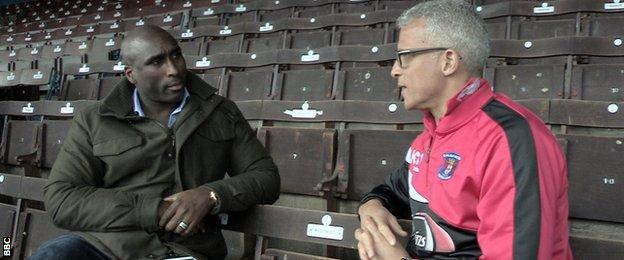 Keith Curle - Carlisle United manager
"The difficulty is getting sat down in front of people. I've applied for jobs I felt I was more than suitable for and I had better credentials than the man who got the job.
"The Rooney Rule might say how you change the interview process - are you going to implement that? I don't think you can."
Chris Powell - Huddersfield Town manager
"In America they've had a history of black coaches in the colleges and universities so it wasn't strange to see a black coach.
"The history is there but it isn't in England with coaches in many sports.
"What I'd really like is for it to be drip-fed, so all of a sudden we're getting more candidates interviewed. I'm not saying they have to get the jobs but just getting interviews.
"There are guys out there with a pro-licence and I just want them to be able to say 'I've been interviewed and didn't get it'."
Inside the game: Football board members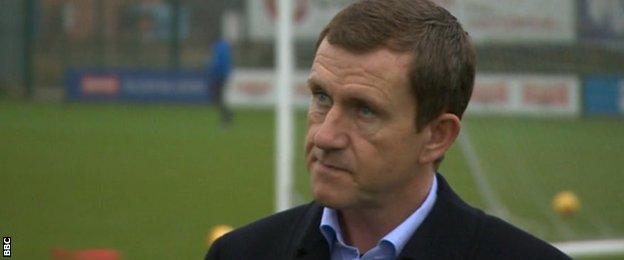 Dean Hoyle - Huddersfield Town chairman
"People do need to be there on merit, and that's where people in football do need to push a little bit harder to get people into those positions.
"Why not [bring in the rule]? I think it's a start, I'm not saying it should be implemented and that's how it will be for the long term, but we have to try things to understand.
"If we don't try we'll never know."
John Nixon - Carlisle United managing director
"To be honest, before I interviewed him [Keith Curle] I didn't know he was a black manager. I interviewed him on the basis he was one of one of the guys on the shortlist.
"The Rooney Rule tends to bring in a top-down approach; 'you will impose rules'. Talent will come through and it will work on its own.
"I assume there are not so many [BME managers] making applications."
Inside the game: Governing body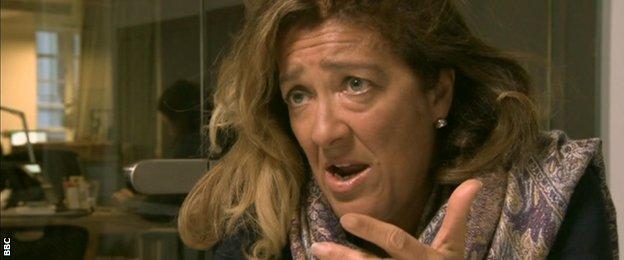 Heather Rabbatts - Football Association board member
"I don't think the FA in particular has been dragging their feet.
"Every other sector I've worked in on diversity for 30 years of my life, people will recruit in their own image.
"Unless you challenge that and say it is no longer acceptable it will continue.
"We at the FA need to do our part in terms of coach education, and the roles we have available within the club England structure.
"The other leagues and clubs need to step up to the plate, having much more open recruitment, being transparent, ensuring you get black candidates on the shortlists.
"We can take some lessons from the Rooney Rule and the experience of the Rooney Rule in the United States."