Ross Barkley: Everton's Roberto Martinez wary of England role
Last updated on .From the section Football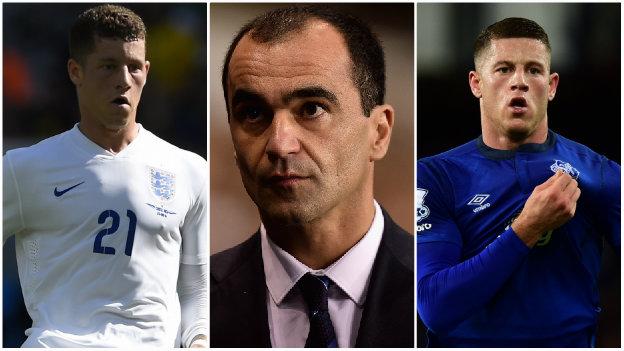 Everton boss Roberto Martinez does not think Ross Barkley will benefit from representing England at the European Under-21 Championships in June.
Midfielder Barkley, 21, has five under-21 caps but has played 10 times for Roy Hodgson's senior England side including three outings at the 2014 World Cup.
"I don't think other tournaments can be a positive for him," said Martinez, 41.
Ex-England Under-21 boss Stuart Pearce was critical of being unable to take key players to the 2013 tournament.
Barkley, who now has 74 appearances for Everton, would rank among England's most important players for the competition.
He represented England in June 2013 under manager Peter Taylor at the Under-20 World Cup but quickly graduated through the ranks, making his senior debut three months later.
Ex-England Under-21 boss Stuart Pearce after 2013 European Under-21 Championships exit
"If you don't bring your best then you have to take your chance. I'll tell you now what you have to do to be successful at senior level.
"You have to qualify with the best team, you have to take your best team to the tournament and you have to give young players as much tournament experience as possible before they step up to the senior team."
Martinez argues a return to a level below the senior team could prevent the development of other young players for England, but he expects to discuss Barkley's inclusion with England Under-21 boss Gareth Southgate.
"Those experiences at under-21 level are to prepare you for the senior level," added Martinez. "Once you get there I think you are blocking someone else's path.
"Ross has been full of terrific experiences, is growing all the time but it will be a decision based on what the under-21 manager wants to do.
"I've said many times it depends on the type of role, on what the season's been like for Ross. At the moment it's impossible to give a straight answer."
Germany's successful 2014 World Cup squad contained six players who were involved when they beat England 4-0 in the 2009 European Championship Under-21s final.
James Milner was the only England player from that game to play at the 2014 World Cup in Brazil.