Swansea: Neil Taylor move would be a gamble, says Andy Legg
Last updated on .From the section Swansea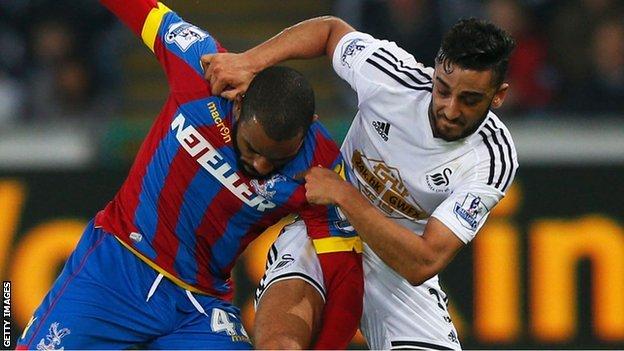 Neil Taylor would be taking a gamble if he left Swansea City to join Crystal Palace, according to former Wales defender Andy Legg.
The 25-year-old joined Swansea from Wrexham in 2010 and was a target for Fulham and West Ham last year.
"I don't think it's a good move for the player," said Legg, who made more than 150 league starts for Swansea.
"Crystal Palace, no disrespect to them - I think are a bit of a yo-yo club at the moment, while Swansea are an established Premier League club so it would be a bit of a gamble."
Taylor, who has played in all of Wales' Euro 2016 qualifiers so far, is not thought to be interested in a move.
Swansea manager Garry Monk is eager to add to his squad during the January transfer window and signing a full-back is one of his priorities.
He has money to spend following the transfer of striker Wilfried Bony to Manchester City in a deal worth up to £28m.
However, Legg believes Monk will have to spend more than he is being offered for Taylor to buy a player of similar calibre.
"They only spent a couple of hundred thousand on the player so in that respect it's a good bit of business," added Legg.
"But in the other respect, will they get a suitable replacement with Neil Taylor's experience for around the same money or even less?
"Garry may have a left back in mind who he wants to bring in, but I would imagine that Garry would try and persuade Neil to stay at the club."