Rangers: Dave King calls for general meeting at Ibrox

By Richard Wilson
BBC Scotland
Last updated on .From the section Football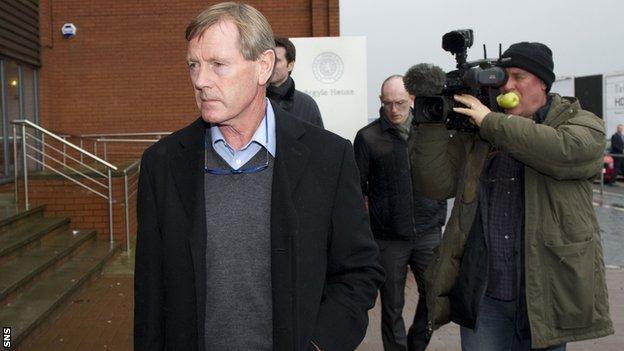 Dave King has lodged paperwork calling for a general meeting to remove all four directors from the Rangers board.
The South Africa-based businessman, who owns 15% of the club, wants a board of himself, fellow ex-director Paul Murray and John Gilligan, an ex-vice-chair of the Rangers Supporters Trust.
King said the requisition for the meeting was "hand-delivered" to Ibrox.
"I would not have called for a meeting if I was not confident that it will be supported by more than 50%," he said.
King is seeking the removal of David Somers, James Easdale, Derek Llambias and Barry Leach from the board.

Llambias and Leach - both representatives of Newcastle owner Mike Ashley - would initially retain their positions as chief executive and finance director respectively, until the board makes new executive appointments.
The board have 21 days to comply, then a further 21 days to hold the meeting for shareholders to vote on the resolutions.
Each resolution only requires the support of a simple majority of those who vote at the general meeting.
King said: "While many of the shareholders hold differing views as to what is right for the club, I believe that a clear majority are like-minded on one key point - the need to remove the incumbent board and to replace it with individuals who can gain the trust of fans, sponsors and the shareholder community."
If King is successful, his appointment as a director will need to be cleared by Rangers' nominated advisor to the stock exchange, then the club would need to write to the SFA to seek approval.
As a director when Craig Whyte took the Rangers into administration, and having breached the Income Tax Act in South Africa, King would face two fit and proper person challenges. That would require a hearing in front of the professional game board.

Rangers currently require emergency funding, with the club unable to pay this month's wage bill.
Ashley has offered £10m in return for security over Ibrox and Murray Park.
And a consortium involving Douglas Park, George Letham and George Taylor - who between them own 20% of Rangers - are prepared to provide the funding the board require, having already provided proof of funds for the £5m the board had told them was required. They are seeking security over Murray Park.
Advance notices of loan security were lodged at the Register of Scotland on Tuesday on behalf of Sports Direct against Ibrox and Murray Park.
The company, owned by Ashley - who holds an 8.92% stake in Rangers - has first call for security on the two property assets for a 35-day period from 13 January, when the documents were lodged.