Rangers v Hearts abandoned because of snowfall
Last updated on .From the section Football
The Scottish Championship match between Rangers and Hearts at Ibrox was abandoned at 0-0 after 25 minutes because of snow on the pitch.
Referee Bobby Madden gave the game the go-ahead despite heavy snowfall in Glasgow on Friday evening.
Both sets of players were, however, clearly struggling on a snow-covered surface.
After calling a halt to the game, referee Madden told BBC Scotland: "It was the right decision (to start)."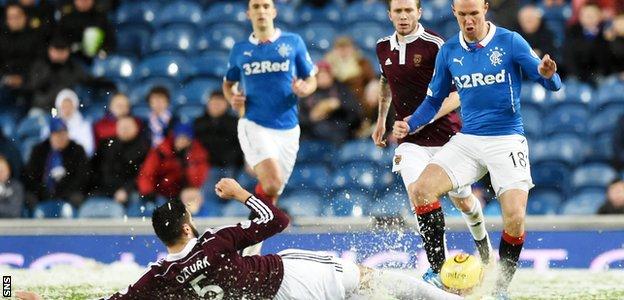 And he added: "The fans were inside the ground. I made the final decision based on player safety. There was a potential risk of injury.
"When you see the players running at 100%, you see they are struggling. It was the best decision to start the game and see what happened."
Rangers interim-manager Kenny McDowall said: "We couldn't disagree (with the abandonment). There was a lot of preparation for the game. We were looking forward to it."
Hearts head coach Robbie Neilson also agreed with the decision to abandon the game.
"I think it was the right decision to start the game, but it was becoming worse and dangerous," he told BBC Scotland.
"You need to try to start the game. Sometimes the snow dissipates a bit but that didn't happen tonight. We brought 2,000 fans through and I'd like to thank them. I'm disappointed for them."
Rangers announced on Twitter that tickets for the abandoned match would be valid for the rearranged game, for which a date has yet to be set.
Hearts remain 13 points clear of Rangers at the top of the Scottish Championship.