Rangers: Fans protest against board at Ibrox Stadium
Last updated on .From the section Football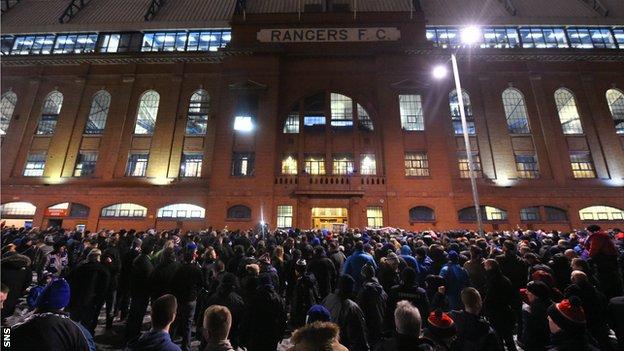 About 600 Rangers fans gathered outside Ibrox before and after in a protest against the club's board.
In the snow, they chanted against shareholder Mike Ashley, who wants the stadium as security for a £10m loan, and the club's directors.
Rangers require emergency funding, with the club unable to pay January's wages.
Police Scotland say officers dealt with a disturbance outside the ground but there were no details of arrests.
The protest came after news that Newcastle United and Sports Direct owner Ashley had offered a £10m loan, but wanted Ibrox Stadium and the Murray Park training ground as security for it.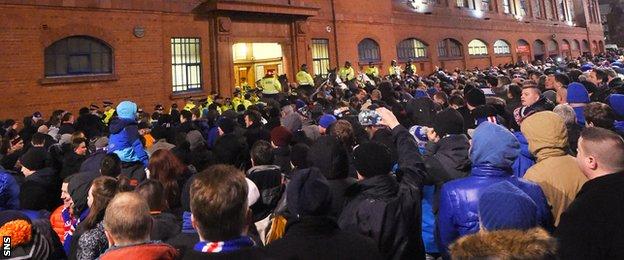 Rangers had previously said they would never allow Ibrox to be used as security against a loan.
Ashley owns 8.92% of the shares but his attempt to increase that stake to almost 30% was rejected by the Scottish Football Association.
The consortium comprising Douglas Park, George Letham and George Taylor, which owns 20% of Rangers, has said it will increase its offer of £5m in funding to avoid the board opting for Ashley's cash.
"Rangers fans, including ourselves, do not want Ibrox given over as security to anyone," said a spokesman for the consortium, which wants two board positions in exchange for the cash.
"There is absolutely no need when there are people ready and committed to offer more-than-adequate funding, while at the same time protecting the stadium."
Prior to kick-off on Friday, news emerged that Dave King, who owns 15% of the shares, had lodged paperwork to remove all four directors from the Rangers board.
The South Africa-based businessman, who owns 15% of the club, wants a board comprising fellow ex-director Paul Murray and John Gilligan, an ex-vice-chair of the Rangers Supporters Trust.
King is seeking the removal of David Somers, James Easdale, Derek Llambias and Barry Leach.