Rangers fans thwarted in court bid against Mike Ashley loan
Last updated on .From the section Rangers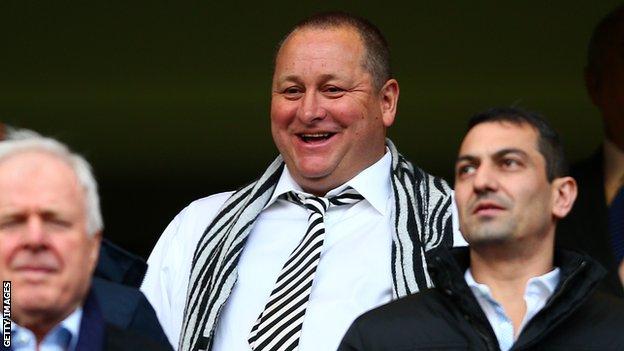 Rangers fans have dropped an attempt to take court action to prevent any move to give Mike Ashley security over Ibrox Stadium in return for loan funding.
The Newcastle United owner is willing to provide £10m, secured against Ibrox and the Murray Park training ground.
And the Rangers Supporters Trust says it has been given advice that a legal challenge would not be successful.
But it believes it might be able to take action against individual directors should Rangers proceed.
The trust's statement comes the day after about 600 Rangers fans gathered outside the stadium to chant against Ashley and club directors after the Scottish Championship game against Hearts was abandoned.

Former director Dave King, who bought a 15% shareholding this month, lodged paperwork calling for a general meeting to remove the four current directors.
The RST had also hoped to take its court action on behalf of shareholders on Friday but is now concentrating on winning a vote at that general meeting and urging fans to help it buy more shares.
"The only way we can carry on our work to try to save Ibrox and reclaim the club is by the supporters backing us and signing up in large numbers to the RST," a statement read.
"Every single vote at the upcoming AGM will be crucial."
Ashley, who has an 8.29% stake in Rangers. has already provided £3m in loans and Rangers require more emergency funding to pay January's wages.
Advance notices of loan securities against Ibrox and Murray Park were lodged at the Register of Scotland on 13 January in the name of Ashley's Sports Direct retail company.

The trust hoped to challenge that in court because Rangers released a statement last year assuring fans that the stadium would never be used as security.
Its statement continued: "It is the opinion of both our senior counsel, junior counsel and solicitors that we can take no further action at this time.
"It is quite clear from their detailed examination of statements made by the board regarding Ibrox that, whilst giving the impression to fans and shareholders that they were making a commitment not to grant security over Ibrox, the board was in fact meticulously careful not to stray into language which would actually give such a legal commitment.
"We have, however, been advised of various possible remedies, including those against individual directors, which may be available to us should the board actually go ahead and grant the security. We will continue to monitor this very, very closely."
The trust suggested Rangers' statement had been misleading and accused Rangers directors of "acting in their own interests and those of Mr Ashley rather than the shareholders and fans of Rangers".
South Africa-based businessman King hopes to remove directors David Somers, James Easdale, Derek Llambias and Barry Leach from Rangers' board at the general meeting.