How Arsenal finally put defence first to beat Manchester City
Last updated on .From the section Arsenal

MOTD2 pundit Trevor Sinclair expands on his TV analysis of what was different about Arsenal as they beat defending champions Manchester City 2-0 on Sunday to end their run of poor results away from home against the other big-hitters in the Premier League.
The way Arsenal manager Arsene Wenger set up his side against Manchester City was surprising and refreshing - and he got his reward with an impressive victory.
At Etihad Stadium on Sunday, it seemed that Wenger finally realised he cannot play his usual open style of attacking football when his team are away from home against the best teams in the Premier League.
Instead, the Gunners were set up to defend and keep a clean sheet. Right from the start, there were times when all 11 of their players were defending deep in City's half.
That kind of work-rate, within the structure of their 4-1-4-1 formation, was the biggest reason why they won the game.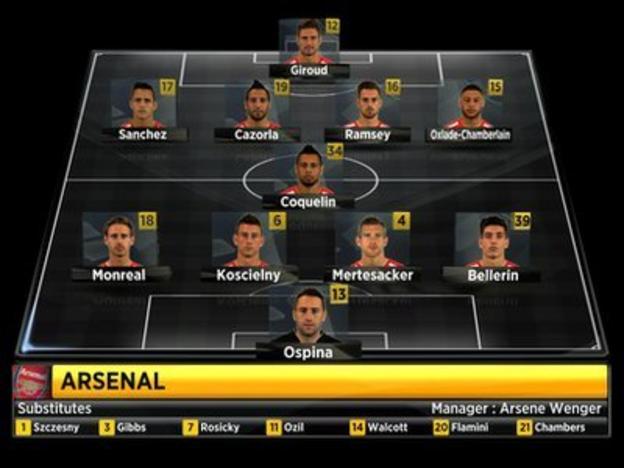 They had only 35% of possession - their lowest rate in a game since Opta's records began in 2003.
But that did not matter because of the way they applied themselves when City had the ball. They were disciplined and hard-working, not gung-ho like they have been in these kinds of games in the past.
On top of that, Wenger's side still looked dangerous whenever they came forward. They did not see much of the ball but they still looked after it well in tricky situations to put pressure on City.
You would not usually describe this Arsenal side as well balanced but, against City, Wenger got his team selection, formation and tactics absolutely spot on.
Defensive discipline
In the past, part of Arsenal's problems defensively have been how cavalier their full-backs are, especially away from home.
Usually they operate high up the field but, against Manuel Pellegrini's side, Nacho Monreal and Hector Bellerin did not ignore their defensive responsibilities.
Average position of Arsenal players vs Man City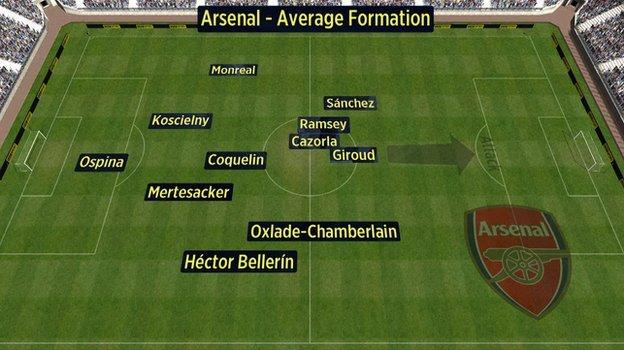 They still got forward: on the side of the pitch where Arsenal were attacking, either Monreal or Bellerin would join in, as Monreal did when he won the penalty that gave Arsenal the lead.
What was different was that the man on the opposite side would sit back and give them more assurance at the back.
It meant Arsenal were never caught with too many men forward, and you could tell that was definitely part of their game-plan because of what happened when they did get carried away.
Just before half-time, Monreal joined a break as Arsenal counter-attacked but it was not a secure situation where they had easy possession.
The move broke down and Francis Coquelin gave Monreal a real mouthful to make sure he did not do it again.
That was not the only time Coquelin made himself heard - he seemed to be the Arsenal player most vocal and most demanding of his team-mates throughout the game.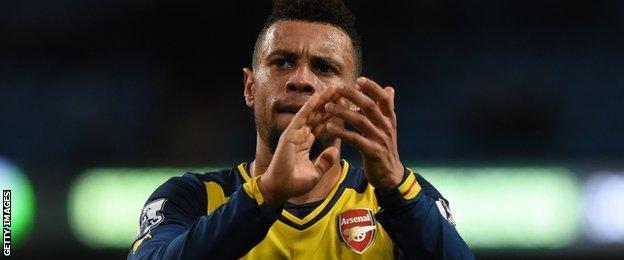 It was impressive to see from someone who is only 23 and has made only a handful of starts at the highest level.
Importantly, he also did a fantastic job himself of sitting in front of the back four, and breaking up play. He made more clearances (11) and interceptions (six) combined than anyone else on the pitch.
Mathieu Flamini and Mikel Arteta offer Arsenal more experience in that role, but Coquelin gives them more energy when they are putting pressure on the ball, which is something they have missed.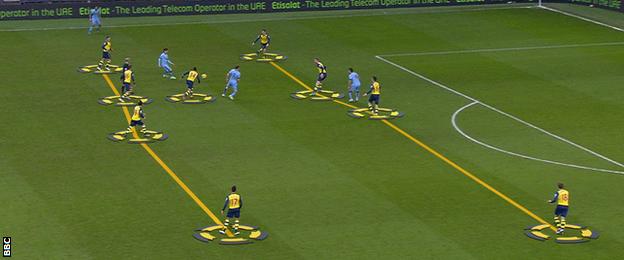 While City had two holding midfielders, in Fernando and Fernandinho, Coquelin did the job on his own.
He stayed very narrow - only eight of his 63 touches were out wide - because he had the help of his full-backs, and patrolled the width of his penalty area to protect his defence brilliantly.
His desire and determination seemed to rub off on his team-mates - if you look at individual battles between players all over the pitch, then Arsenal players won nine or 10 of them.
Francis Coquelin's touches vs Man City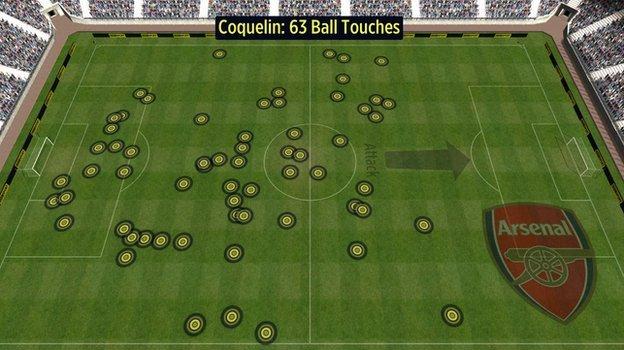 Another big difference with this Arsenal display was their defending at set-pieces.
It has been seen as a weakness of this Gunners team in the past, and poor marking certainly cost them when City scored their equaliser from a corner at Emirates Stadium in September.
On Sunday, however, they faced 16 corners and did not let their concentration slip.
The same could not be said for City, who switched off at the back when Olivier Giroud got on the end of Santi Cazorla's free-kick for Arsenal's second goal.
Work-rate makes a difference too
Arsenal were well organised and worked hard at the back, but they won the game because of the quality they had when they came forward.
Cazorla played a part in all of that, and covered a huge amount of ground while doing so.
Santi Cazorla's touches vs Man City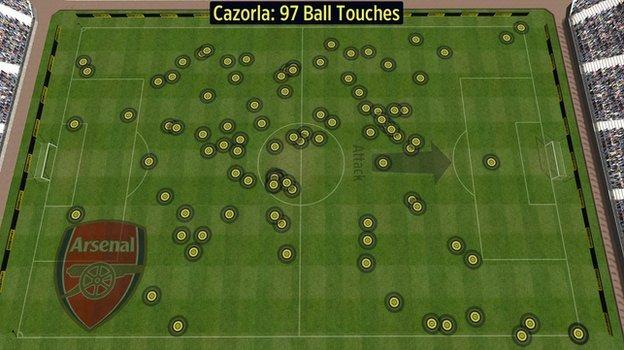 I have not seen him go into challenges before like he did against City and, in terms of his attacking influence, it is a long time since he has played as well in such a big game.
His performance at Etihad Stadium reminded me of when Arsenal beat Liverpool 2-0 at Anfield in September 2012, just after he moved to the Premier League.
That day, Cazorla was immense. I watched that game and I was purring about him, thinking what a player they have signed.
I am a big fan of his because he plays the game the way it is supposed to be played - he is so creative and fearless on the ball, which means he is constantly trying things.
But for me, since then, he has been found wanting at times and has come up a little bit short against the top teams.
So I was really pleased for him for the way he played today, because he produced in a big way. I will be expecting a lot more of the same from him in the future.
A turning point for the Gunners?
Arsenal have been seen as a soft touch away from home for too long, especially after what happened to them in their heavy results on the road against Chelsea, Liverpool and Manchester City last season.
But against City, they did not just win, they did a thorough job on them - stopping them playing and putting pressure on the ball.

You could tell from how hard they worked that every one of their players bought into what Wenger was trying to do on the day, which first and foremost was to keep City out.
That might not be Arsenal's usual approach but it worked and they will take plenty of positives from the game, as well as the three points.
There was great togetherness and spirit from their players, who now know they can rely on each other playing in that shape.
They have also proved they can win against the top sides, and that will give them great belief.