Rangers bid to avoid general meeting called by Dave King

By Alasdair Lamont
BBC Scotland
Last updated on .From the section Football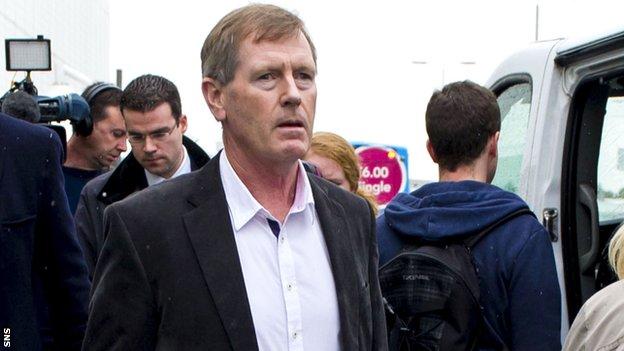 Rangers' board hopes to avoid a general meeting called by shareholder Dave King that aims to oust four directors.
In a statement to the Stock Exchange, Rangers International Football Club says it intends to seek the withdrawal of the notice.
It points out that Stock Exchange rules require all individuals appointed to the board to be suitable.
This is a clear reference to King's criminal record for tax offences in South Africa.
In a separate statement, the board acknowledges that Ibrox Stadium may be used as security for funding.
But it stressed that this will not "unfairly advantage the party with whom it was agreed".
King and Murray's directorship hurdles
Dave King and Paul Murray will have to satisfy both AIM Stock Exchange and the Scottish Football Association they meet "fit and proper" criteria in their bid to become Rangers directors should they win an extraordinary general meeting vote.
Both men were part of the Rangers board in the year prior to going into administration, while King paid £44m to avoid jail after pleading guilty to contravening South African tax laws.
To be a director of an AIM company, an individual must declare -
(i) any unspent convictions in relation to indictable offences;
(iii) details of any receiverships, compulsory liquidations, creditors' voluntary liquidations, administrations, company voluntary arrangements or any composition or arrangement with its creditors generally or any class of its creditors of any company where such director was a director at the time of or within the 12 months preceding such events;
King, however, sits on the board of a listed company in South Africa, while both men were vocal critics of Whyte in his time in charge of Rangers. AIM depends on company shareholders and nominated advisers to vet directorial appointments.
The SFA would only become involved upon being notified of a change of director. Among its "fit and proper" criteria, over which the board has discretion to decide on an individual's ability to act as a director, are whether he "has been convicted within the last 10 years of (i) an offence liable to imprisonment of two years or over, (ii) corruption or (iii) fraud."
Or "been a director of a club in membership of any national association within the five-year period preceding such club having undergone an insolvency event".
King and Murray would have to argue mitigating factors, with the SFA's professional game board likely to hear their case.
Last week, the board lodged an advanced notice for a charge over Ibrox in favour of shareholder Mike Ashley's company, Sports Direct.
Ashley and a consortium including Douglas Park and George Letham are in separate talks with the board over providing funding to Rangers.
RIFC noted "shareholder concern" about the future of Ibrox but stresses that the club needs "urgent short-term financing" and that a new share issue was not possible in the timeframe required, leading to the talks over possible loans.
"These discussions contemplate a significant amount of capital being available to the business on a long-term basis in order to enhance the squad, which the directors believe is necessary," it states.
"A consequence of funding to this level is that, in reality, it may be necessary to use Ibrox Stadium as security; such a decision would not be taken lightly."
"No decision has been taken at the current time while discussions are being finalised in good faith.
"The advance notice does not mean that security will be given and the directors are adamant that it will not unfairly advantage the party with whom it was agreed."
Rangers fans staged a protest against the board before and after Friday's abandoned match against Hearts and several supporters groups had hoped for regime change at the general meeting called by King.
RIFC has confirmed to the AIM Stock Exchange that the former Rangers director's notice demands a vote for the removal of David Somers, Derek Llambias, Barry Leach and James Easdale as directors.

The resolution also calls for the appointment of King and his associates, Paul Murray and John Gilligan.
"The company is currently verifying that the notice is properly constituted," added RIFC. "If valid, the board intends to seek to have such notice withdrawn in order to avoid the cost and disruption of an ad hoc general meeting.
"The AIM rules require that all individuals appointed to the board of an AIM company are suitable to be a director of a UK public company."
Meanwhile, former Rangers defender Richard Gough has joined the Rangers Supporters Trust as a life member and contributor to its Buy Rangers campaign.
He follows Rangers fan Lynsey Sharp, the Olympian and Commonwealth athletics medalist, who last week joining those backing the group, which now claims 4,000 members.
Meanwhile, former Rangers midfielder Claudio Reyna, currently director of football operations at New York City FC, has joined the Rangers First group, which wants community ownership at Ibrox.