Ken Furphy: Former Watford and New York Cosmos boss dies
By Brent Pilnick
BBC Sport
Last updated on .From the section Football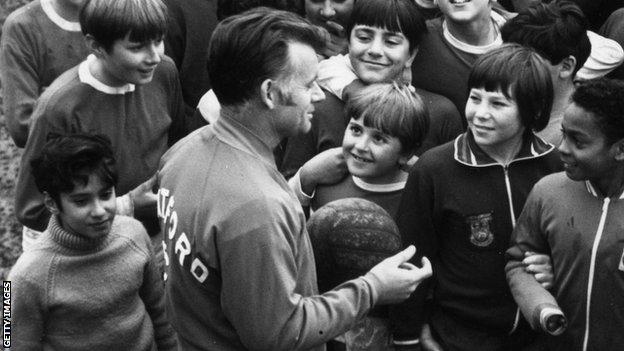 "He went from Stockton-on-Tees to the top of the Rockefeller Plaza, coaching Pele."
Former Watford, Sheffield United, Blackburn Rovers and New York Cosmos manager Ken Furphy may be the only person whose career in football can be encapsulated by that sentence.
Furphy passed away at the weekend, aged 83, at his home in Devon.
His playing career saw him spend nine years at Darlington before spells at Workington and Watford, but he became far better known as a manager and coach.
And while he famously spent time in the old North American Soccer League with the Cosmos, where he managed Pele and Giorgio Chinaglia, his greatest achievement in management probably came at Watford.
After guiding them to the old Second Division, now the Championship, for the first time in their history a year before, he led the club to an FA Cup semi-final in 1970, beating Liverpool and Stoke of the First Division along the way before eventually losing to Chelsea.
"Because of his achievement with Watford he was a very respected figure down there," former Hornets and England manager Graham Taylor told BBC Sport.
Ken Furphy the player
1953-1962:
Darlington
1962-1964:
Workington
1964-1968:
Watford
"When I went to Watford it was only a town of 60,000 people, so it wasn't a big town.
"Before I went there Ken had got that position where he took Watford into the Second Division and he was very well thought of in the Watford area."
Not only did Furphy go to the USA long before the likes of and Thierry Henry made it trendy, he also blazed a trail in the media, becoming the first football manager to allow his pre-match team talk to be broadcast on television.
BBC presenter David Coleman described Furphy as "one of the best young managers in the game today" introducing his Watford team talk on Grandstand before their FA Cup fourth-round tie with Manchester United in 1969.
"It was quite amazing," Furphy's son Keith told BBC Sport. "To my knowledge it's the only time it's ever happened."
But a career that eventually spanned the Atlantic would never have begun had it not been for the support of his wife after he was initially rejected by Darlington following a trial in the early 1950s.
"He came home down in the dumps and my mum, who was meek and mild, told him to get his backside down there and have a another go," said Keith.
"They played him at left-back and he should have been at right-back. So he went back and they played him in the right position and it all went from there."
Ken Furphy the manager

1962-1964:

Workington

1964-1971:

Watford

1971-1973:

Blackburn Rovers

1973-1975:

Sheffield United

1976:

New York Cosmos

1976-1977:

Miami Toros

1977-1980:

Detroit Express

1981:

Washington Diplomats
In his later years after moving to the seaside town of Teignmouth, Furphy became a summariser for BBC Radio Devon, especially on Torquay United matches, with one of his last games being their FA Trophy final defeat by Ebbsfleet at Wembley in 2008.
But what about his time in New York managing Pele, the world's greatest player?
Having guided Sheffield United to sixth place in the First Division in 1975, Furphy's Blades had high hopes for the following season.
But a run of one win in 11 games at the start of the new campaign resulted in his dismissal and the following year he crossed the Atlantic to manage the Cosmos.
"How he did that we had no idea," Keith recalled. "But he did it and had a lot of passion and enthusiasm.
"He went from Stockton-on-Tees to the top of Rockefeller Plaza, coaching Pele."

In Furphy's first year, the Cosmos finished second in the NASL's regular season and were knocked out in the play-off quarter-finals by Tampa Bay Rowdies.
However, they had created enough of a wave to move to Yankee Stadium and recruit the likes of World Cup-winning captains Carlos Alberto and Franz Beckenbauer.
But a quarter-final defeat was not what the owners had in mind after signing Pele that year and Furphy left the club.
He moved on to roles at the Miami Toros, Detroit Express and Washington Diplomats, but his son believes it was his time at Watford for which he should primarily be remembered.
"He knew what he was talking about," Graham Taylor remembered.
"If you include everyone who looks at and is involved in football, not everyone knows what they're talking about.
"When he had something to say, you listened."
Ken Furphy's funeral will be held at Teignmouth Methodist Church in Devon on 27 January at 15:00 GMT.