Woking v Bristol Rovers: 200 fans locked out of ground
Last updated on .From the section Football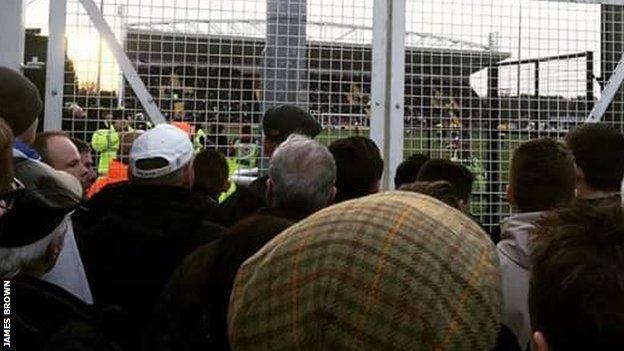 Around 200 Bristol Rovers fans were locked out of Saturday's Conference game at Woking because the away end was over capacity.
The Chris Lane Terrace at the Kingfield Stadium holds 1,800 fans, but more than 2,000 Pirates supporters made the trip.
The turnstiles were shut once the away stand was full, meaning a section of fans were unable to watch the 0-0 draw.
Woking have since apologised and said there was a "misunderstanding" regarding pre-arranged ticket sales.
The official attendance at the Conference game was 3,853 - some way short of the 6,000 capacity - but Woking were unwilling to allow away fans into areas designated for home supporters.
"The advice and intelligence reports were to expect approximately 1,600 to 1,700 Bristol Rovers fans to attend the game and the club's planning was based on these figures," said a club statement.
"When the number of away fans reached 1,869, the club's safety officer and police took the decision that the gates were to be closed and, regrettably, a number of Bristol Rovers supporters were unable to gain entry to the game.
"The club wish to apologise to the Bristol Rovers fans who were unable to see the game, but wish to stress that it must also abide by its safety certificate."
Bristol Rovers were relegated to non-league for the first time in their history last May, but are currently second in the Conference standings.