Rangers: Dave King confident of returning to Ibrox board
Last updated on .From the section Football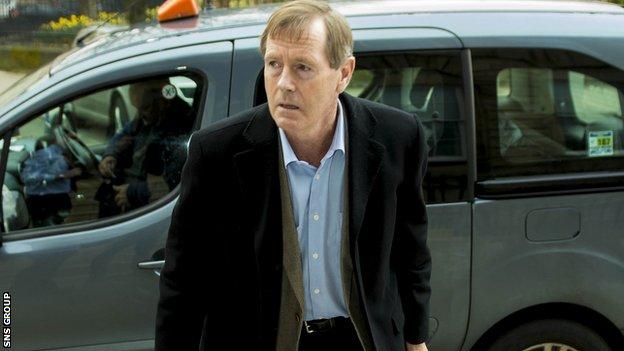 Dave King has reaffirmed his belief that there is no impediment to him returning as a director of Rangers.
The current board released a statement to the Stock Exchange on Monday casting doubts over King's suitability to be a director of a UK public company.
But King, convicted of tax offences in South Africa, said: "There are no problems regarding the AIM regulations."
King is seeking to ask the shareholders to vote himself, Paul Murray and John Gilligan on to the board.
And he acknowledged that he and Murray would have to convince the Scottish Football Association of their suitability for such roles.
"The issue with the SFA is simple," he explained via a statement. "Only once a director is appointed is an application made to the SFA by the club.
"Both myself and Paul will have to deal with our previous directorship at the time that Craig Whyte got involved. Additionally, I will have to deal with my reasons for staying on the board and trying to impose some level of governance during the Whyte era.
"I will also deal with my favourable settlement in South Africa. These are all issues that the SFA rightly has to address in the same way that the SFA has to review the history of anyone who gets involved with a Scottish football team."
King went on to criticise the Ibrox board for putting personal interest ahead of the interests of the club, saying: "History will judge this board as one of the worst the club has ever had".
King and Murray's directorship hurdles
Dave King and Paul Murray will have to satisfy both AIM Stock Exchange and the Scottish Football Association they meet "fit and proper" criteria in their bid to become Rangers directors should they win an extraordinary general meeting vote.Both men were part of the Rangers board in the year prior to going into administration, while King paid £44m to avoid jail after pleading guilty to contravening South African tax laws.To be a director of an AIM company, an individual must declare -(i) any unspent convictions in relation to indictable offences;(iii) details of any receiverships, compulsory liquidations, creditors' voluntary liquidations, administrations, company voluntary arrangements or any composition or arrangement with its creditors generally or any class of its creditors of any company where such director was a director at the time of or within the 12 months preceding such events;King, however, sits on the board of a listed company in South Africa, while both men were vocal critics of Whyte in his time in charge of Rangers. AIM depends on company shareholders and nominated advisers to vet directorial appointments.The SFA would only become involved upon being notified of a change of director. Among its "fit and proper" criteria, over which the board has discretion to decide on an individual's ability to act as a director, are whether he "has been convicted within the last 10 years of (i) an offence liable to imprisonment of two years or over, (ii) corruption or (iii) fraud."Or "been a director of a club in membership of any national association within the five-year period preceding such club having undergone an insolvency event".King and Murray would have to argue mitigating factors, with the SFA's professional game board likely to hear their case.