Matt Bloomfield: Can a manager lose a dressing room?
By Matt Bloomfield
Wycombe Wanderers midfielder
Last updated on .From the section Football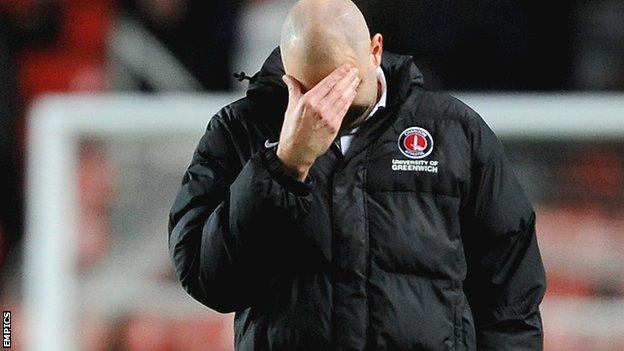 Sacking season is upon us and that means rumours of unrest, low morale and reports of bosses being one game away from losing their jobs are everywhere.
Every time a team is going through a rough spell and a manager is under pressure, I hear one thing more than anything else.
"The manager has lost the dressing room."
But what does this mean? And does it actually happen?
I can categorically say that I have never known, or heard, about a situation where a squad of players would deliberately not try their best to win games for a manager.
Having never played in the Premier League, I can not say what it is like in changing rooms at that level, but mentalities may differ slightly at that level.
I have never experienced players getting together and saying they need to get a manager out, just because they would have a better chance of success under a new one.
This would never happen.
How would a player know who the new manager would be? How would they know whether a new manager would want them to be part of his plans?
Longest-serving managers in England

Arsene Wenger (Arsenal), 19 seasons

Paul Tisdale (Exeter City), nine seasons

Karl Robinson (MK Dons), five seasons

Darren Ferguson (Peterborough United), four seasons
Dean Smith (Walsall), four seasons

Jim Bentley (Morecambe), four seasons
They wouldn't know what type of football a new manager would want to play, or even whether he would want them to train different hours or different days. Why try so hard to get rid of the old boss when you have no idea what's around the corner?
The job of a manager in any business is to get his or her team believing in the path they are trying to lead their team down and how they are going to get there.
Players generally do not make conscious decisions to sabotage their gaffer, but that doesn't mean they are not affected by what is going on at a club.
When the team is winning, the message from the manager becomes stronger - it is more tangible and carries more and more weight.
When a team starts to lose, no matter how much the manager and the team believes in what they are trying to do, this message can become slightly diluted.
Should a group of paid professional people need a figurehead to motivate them? Can they not motivate themselves?
They are fair questions.

But the margins between winning and losing in professional sport are often so small that the tiniest of things can make a big difference.
A firm belief in what your manager is telling you and an ability to be able to carry out those instructions are vital.
Contrary to popular belief, a lot of footballers are intelligent people who care deeply about their job.
We are proud people who are being judged constantly on each and every performance.
We can motivate ourselves but we are creatures of habit and routine, and a good team always has a strong, confident leader.
The last time I lost a manager at Wycombe was when Gary Waddock left in September 2012.
We had just been relegated from League One and the season had not started too great for us in League Two when expectations were high.
I was actually out of the team injured when the gaffer left, but I remember feeling absolutely awful that such a good man, a good footballing man, should be losing his job off the back of the results that we were getting.
When a side is performing badly, it is rarely down to just the manager, and that's something people would do well to remember when they are wondering who to blame.