Greg Stewart: Dundee striker doubles target to 20 goals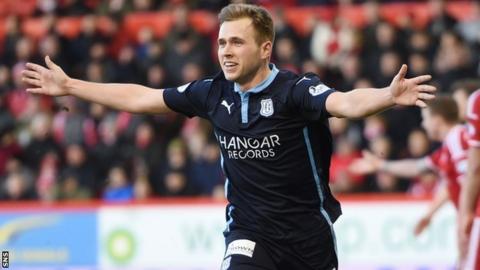 Greg Stewart's prolific form for Dundee means he is having to adjust his targets at the season's halfway stage.
The 24-year-old striker has netted 12 times in 24 outings, despite only aiming for 10 over the whole campaign.
"I've got there quicker than I thought," Stewart told BBC Scotland.
"You always want to try and get to at least double figures and I've played lots of games which I wasn't sure I was going to get. If I could get up to 20 that would be absolutely brilliant."
Stirling-born Stewart, who began his career at Rangers, joined Dundee in the summer after four seasons of part-time football at Cowdenbeath.
In his final year at Central Park, he had formed an excellent partnership with Kane Hemmings, now of Barnsley, notching 16 times.
But he expect to be nearing that total halfway into his first Premiership season.
"I always knew I had the ability but I just didn't know what to expect coming in full-time in the summer," said Stewart, who signed a new contract earlier this month.
Five years of Greg Stewart goals
2010-11 at Cowdenbeath
9 goals in 34 appearances
2011-12 at Cowdenbeath
7 goals in 32 appearances
2012-13 at Cowdenbeath
5 goals in 28 appearances
2013-14 at Cowdenbeath
16 goals in 41 appearances
2014-15 at Dundee
12 goals in 24 appearances
"It took me a month or two to adjust and as the season's gone on I just feel like I've been getting fitter and stronger.
"When you're at a team like Cowdenbeath, you're obviously part-time, up against boys that are full-time footballers in that league. Half the time you're actually defending, because you're in a relegation battle right from when the season starts."
Ahead of Wednesday's match at Dens Park against Kilmarnock, against whom Stewart scored twice in their last meeting, Dundee sit eighth in the league and are through to the fifth round of the Scottish Cup.
"We've got Celtic in the next round but we're at home and you never know what can happen," said Stewart, currently the joint second highest scorer in the Premiership this season.
"I would love to win a cup. There's a great bunch of boys in the dressing room and they all want to play for each other. It's not individuals, it's more wanting to thrive as a team.
"Having got promotion last season, you always think you want to avoid relegation, but the boys have always been wanting to push for a top-six finish."