Theo Walcott: Arsenal strikeforce 'better than Henry era of 2006'
Last updated on .From the section Arsenal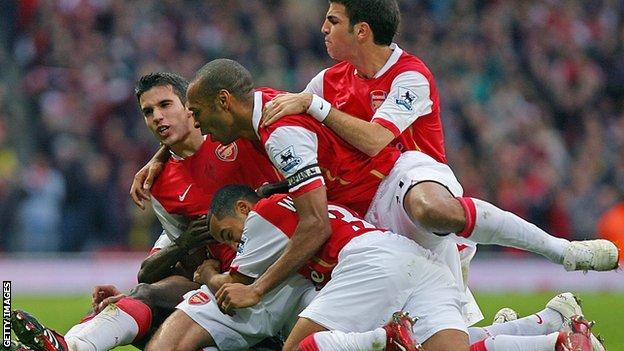 England winger Theo Walcott has claimed the current Arsenal attack is better than the 2006 strikeforce.
Walcott joined the Gunners that year, playing alongside members of the 2003-04 'Invincibles' side such as Thierry Henry and Dennis Bergkamp.
But the former Southampton player, 25, said team-mates Alexis Sanchez, Olivier Giroud, Danny Welbeck and Alex Oxlade-Chamberlain are a stronger line-up.
He said: "I think this squad probably does beat it, but we need to prove it."
Arsenal Premier League goals: 2005-06 v 2014-15

Thierry Henry 13* (27)

Alexis Sanchez 12

Robert Pires 3* (7)

Olivier Giroud 6

Robin van Persie 3* (5)

Danny Welbeck 4

Jose Antonio Reyes 3* (5)

Santi Carzorla 4

Dennis Bergkamp 1* (2)

Alex Oxlade-Chamberlain 1

* goals total after 22 games, final total in parentheses
Walcott told the club's website: "When I came, it was Robert Pires and Freddie Ljungberg, Bergkamp, Thierry and Jose Antonio Reyes - that's some attacking force as well.
"When we go and achieve a little bit more than winning the FA Cup, then I think we can stand up and say this is the best attacking line up we've ever had."
Walcott, who has missed the entire season through injury, described Welbeck as a "workaholic" and agreed with Oxlade-Chamberlain's comparison of Sanchez with a "Duracell bunny".
He said: "Obviously there is me as well coming back, and then you have the likes of Aaron and Jack in midfield. The list goes on, that's how good we are going forward.
"It is a headache for the manager when you have that many great attacking options."