DJ Campbell: Striker almost quit following spot-fixing claims
Last updated on .From the section Blackburn
Footballer DJ Campbell says he was pushed to the brink of retirement and reveals his family were verbally abused as he fought spot-fixing allegations.
In his first interview since the Crown Prosecution Service (CPS) dropped its case against him, Campbell said he had suffered a "nightmare" 15 months.
Asked what had stopped him retiring, the 33-year-old replied: "My family, my friends. Me as well, thinking deep."
He also told BBC Sport that football meant too much to him to quit.
"This is what I have been doing for years, this is what gave me the life I live, this is what has made my family happy, this is what made me happy," said Campbell.
"To throw it all away was tough to think of."
What is spot-fixing?
Spot-fixing is where a player corruptly influences a specific element of a match for the purposes of betting, for example by intentionally getting a yellow card or conceding a corner, without trying to fix the final score.
He was playing in the Championship last season on loan at Millwall from Blackburn but now plays four divisions below, in the Conference South for Maidenhead United.
Campbell was one of 13 players under investigation by the CPS, which eventually dropped its case because of "insufficient evidence".
He was accused of accepting money in exchange for picking up a booking while playing for Blackburn Rovers but always denied the allegations and, according to the striker, had the backing of Blackburn manager Gary Bowyer.
Campbell said: "Gary always believed in me. I remember the first day it happened, I went in there and I spoke to him. I assured him I didn't do it. I looked in his eyes and he looked in mine and he said 'I believe you D. I know you wouldn't do anything like that.'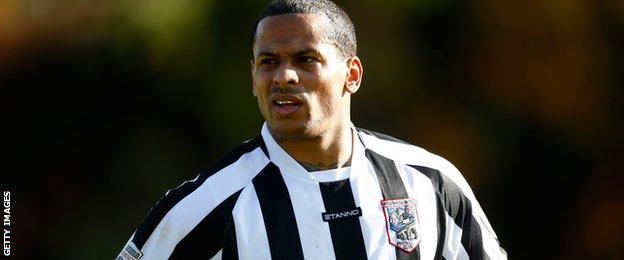 "Gary was like a comforting blanket, I knew he was on my side. That was the first thing I wanted to do, talk to him and say 'Gaffer, I didn't do this'. He didn't even have to say he believed in me, I could see it in his eyes. That was pleasing."
The former Brentford, Birmingham, Leicester, Blackpool, Queens Park Rangers and Ipswich forward also spoke of the harrowing period his family and three young children have been put through.
"I would go home and my missus would tell me what has happened in her day," he explained. "The paparazzi had been following her to school and kids had been giving my kids a bit of mouth.
Mobile DJ: the much-travelled striker's stats
League clubs:
(9) Brentford, Birmingham, Leicester, Blackpool, Derby, QPR, Ipswich, Blackburn, Millwall
Premier League appearances:
53
Goals:
14
Football League appearances:
182
Goals:
58
Total league appearances:
235
Goals:
72
"Whatever is thrown at me, I can deal with it. I am used to being in the limelight, being always in front of thousands and millions of people. When it comes to your family, they are not used to that.
"It is difficult for them when your kids are going to school and other kids are saying certain things. How do you deal with that? They are only kids."
Campbell fears that in the eyes of some he will forever be associated with the controversy but hopes he can now move on with his career.
He added: "I feel this will always be hanging over me. It is a shame, no matter what I do now, I will have that over my name.
"I hope they will see this is finished now. I haven't done it. Before, when it was still going on, that was a big problem.
"My agent would talk to clubs and they would say 'we like him, we know what he can do but...', so it was very difficult for me to get a club.
"But now it has finished, I would like to think they would say 'it is finished, he hasn't done it, we can sit down now and give him a chance'."